Stop Nail Biting Affirmations
Stop biting your nails and start enjoying growing them and taking care of them, with our unique affirmations mp3.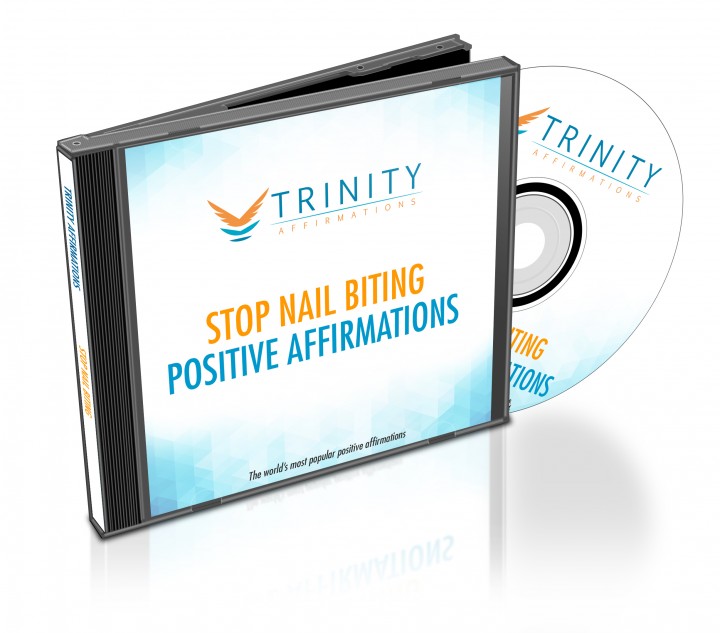 Do you bite at your nails and cuticles even when you're not aware of it?
Are you sick of how horrible your fingers look?
Do you want to put this bad habit behind you and to finally have nice looking fingers, that you'll be proud to show?
There's more to nail biting than just damaging your fingers. This bad habit of yours can cause others to perceive you in a very negative context – while you may not be aware that your fingers are (again!) in your mouth, others notice it and as nail biting is usually associated with anxiety or boredom, it influences the image they form of you as a person.
If you're tired of trying to hide your fingers when you shake hands with someone, if you want to save yourself the embarrassment and to have nice looking hands, then this album is the aid you've been looking for.
There's no easy way to stop nail biting: you have acquired that habit all by yourself and you're going to have to un-learn it all by yourself too. That's easier said than done as your subconscious (that part of you which makes you embarrass yourself and bite your nails and cuticles even when it's least appropriate) is stubborn and pays little attention to what you consciously want.
The only way to really overcome this habit is to make your subconscious want to stop too, to make it your ally and to really focus your entire consciousness on developing a more healthy (and less ugly) way to cope with anxiety and boredom.
Consistent use of affirmations can re-wire your brain and teach your subconscious to react differently to the triggers causing you to bite your nails. Training the subconscious is much like training a muscle – repetition is the key: the more it's exposed to a certain thought or set of thoughts, the quicker it will remove past thought patterns and form new, beneficial ones.
What to Expect
This album will help you by:
Making you aware of your behavior and helping you detect the triggers which cause it. It's much easier to give in to the urge to bite your nails and cuticles when you're willingly focusing on something else – it helps you ignore what you're doing and in a way allows you to continue. Affirmations will stop this self-sabotaging behavior and make you fully aware of your habit – the moment when your hand moves toward your mouth and the cause behind it. The moment you begin to ask yourself why you want to do it, is the moment when the pattern will begin to break, allowing you to make a conscious choice not to do it – now, the next time and never again.
Making you more relaxed in mind and body. Nail biting is most often caused by the tension you feel, so by reducing the tension you will reduce the urge to bite at your nails. You will start using alternative ways to relieve tension and you will be driven to keep yourself active, in order to reduce your level of stress and limit the desire to bite your nails.
Increasing your motivation to grow long and healthy nails. Affirmations will instill within you the image of how beautiful your hands can and will look and enhance the feeling of being happy and proud about it. You will notice that you're more and more driven to take proper care of your nails and to clip them rather than bite them – your desire to keep your hands and your nails beautiful will become stronger than your urge, until the urge is finally gone.
Download our free app for iPhone/iPad today and listen immediately after your purchase- just search the App Store for Trinity Affirmations.
Allow your hands and nails to shine – download this album now and use the power of motivational suggestion and inspiration to cure your nail biting for good!
Present Tense
I am free from nail biting
I am aware of my hands and fingers
I am naturally relaxed without needing to bite my nails
My hands and fingers are relaxed
I keep my fingers away from my mouth
My nails are healthy and beautiful
I take proper care of my nails
I always clip my nails rather than bite them
I am in total control of my body
I have a sharpened awareness of nail biting
Future Tense
I will overcome my habit of nail biting
I will heal my fingernails
I will keep my hands and fingers away from my mouth
I am becoming more and more aware of my habit of nail biting
Each day I gain more control over my impulses
I am finding it easier to relax without biting my nails
My hands and fingers are becoming more relaxed
I will stay focused on controlling my body
My fingernails are beginning to heal
My friends are starting to notice that I have stopped biting my nails
Natural Tense
I am naturally relaxed and at ease
Keeping my fingers away from my mouth is easy
I can stop biting my nails
I have the power to control my habits
My fingernails are naturally healthy
It is important to let go of my nail biting habit
I can release stress and tension without biting my nails
It will feel incredible to overcome my nail biting habit
My hands are naturally relaxed and away from my mouth
Strong healthy nails are normal