Learn Harmonica Affirmations
Use this unique affirmations album and get on your way to sounding like Little Walter, in no time.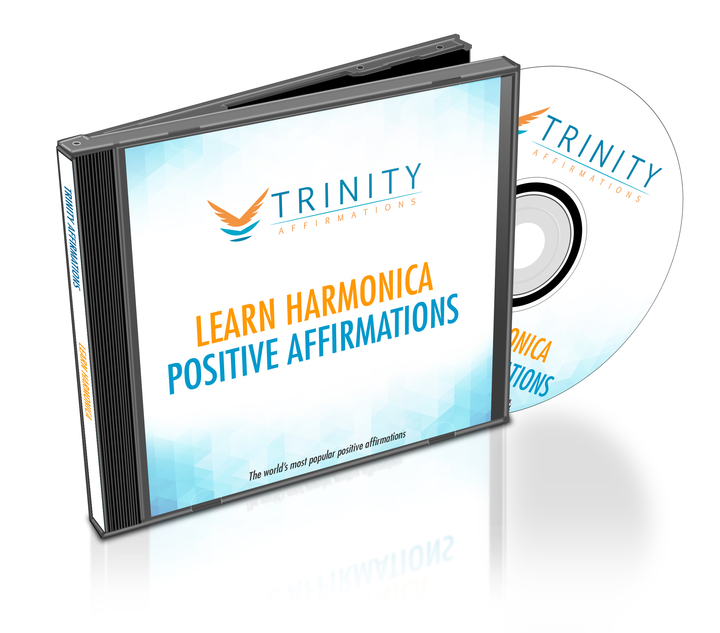 Do you feel you'll never get the hang of playing harmonica, no matter how hard you try?
Are you having trouble with tone control or tongue blocking technique?
Are you struggling to practice consistently?
Would you like to speed up the learning process and become an amazing blues harp player fast?
Harmonica. One of the coolest instruments you could have ever picked. You can carry it with you and throw a party whenever you feel like it.
Everybody expects piano players and guitarists playing solo, but when a harmonica player starts jamming, they can bring the masses to their feet.
You know that. That's why you chose to play this musical instrument, of all.
You want to master playing the harp. Sadly though, so far you don't seem to be cut out for it.
There are just too many obstacles. You can't read the notes fast enough. The timing and breath control gives you trouble. Your attention drifts off far too often and you are stuck on a few songs that you've learned by now.
What's worse is the more you feel this way, the more the idea you'll become this cool, blues & jazz legend seems further away.
But stop right there. First off, what makes you think you're any worse than thousands of successful harmonica learners out there?
You're not. You just need to build a better attitude towards mastering this instrument.
That's where learn to play harmonica positive affirmations fit in.
Listening to this powerful set of affirmations will help you get rid of the limiting beliefs that undermine your progress. You remember a little voice in your head or a subtle feeling telling you that you're not good enough? That you'll never rock and amaze your friends like your harmonica idols.
Well our audio shuts those voices out and eliminates such feelings.
This album will also rewire your mind so you can learn to play the harmonica faster and easier. Your neural pathways will develop, you'll read the notes better and your technique will approve.
This powerful method will help you achieve any goal you've set, to improve your harmonica playing skills.
Here's what else the powerful learn to play harmonica MP3 will do for you.
What to Expect
Listening to this unique album will:
Improve your focus. Focusing on every aspect of playing the mouth harp will become natural to you. You will be able to master your breath control, tone production and before long, your tone control will improve too. Because of your enhanced focus, you will process the notes easier and remember the songs faster. If you listen to these affirmations every day, you will train your mind to interpret musically based information with ease.
Boost your motivation so that everyday practice feels "normal", instead of being hard work. You will start looking forward to your jamming sessions. Your motivation to give your best while playing will increase. You will challenge yourself constantly to play more difficult partitions and you will be happy to carry your harmonica wherever you go and use every chance you get to practice.
Build up your self-confidence. This may well be the biggest benefit of listening to and repeating the learn to play harmonica affirmations album. Your greatest enemy when trying to master anything really, is self-doubt. Not believing you can actually do it. Not seeing yourself on stage, or among your friends and putting up the best performance of your life. This audio-tool will help you imagine yourself to be that guy/girl. You will visualize yourself provoking standing ovations, being admired and adored by many. When you pick up your harmonica to practice, with those feelings... well, let's just say stopping you would be quite a challenge.
Download our free app for iPhone/iPad today and listen immediately after your purchase- just search the App Store for Trinity Affirmations.
Download your learn to play harmonica affirmations MP3 now and sweep your audience off their feet with your superb harmonica playing skills.
Present Tense
I can play the harmonica
I am musically inclined
I am learning how to play the harmonica
I can read music easily
I concentrate fully
I am able to retain what I learn
I am a harmonica player
I like practicing
I am a fast learner
I am motivated to learn the harmonica
Future Tense
I will learn to read music
I will play the harmonica
I will be known for my harmonica playing
I will concentrate on learning
I am beginning to advance my harmonica skills
I will retain what I learn
I will practice regularly
I will learn quickly
I will stay motivated to practice
I will enjoy playing the harmonica
Natural Tense
My skills are improving
Playing the harmonica comes naturally to me
Practicing is fun
Reading music is easy
Others see me as musically inclined
Playing the harmonica is enjoyable
Concentrating comes easily to me
Retaining information comes naturally to me
My motivation to learn is high
Focusing comes naturally