Learn Saxophone Affirmations
Use this transformational MP3 audio to crush all your limiting beliefs and amaze the world with your saxophone playing skills.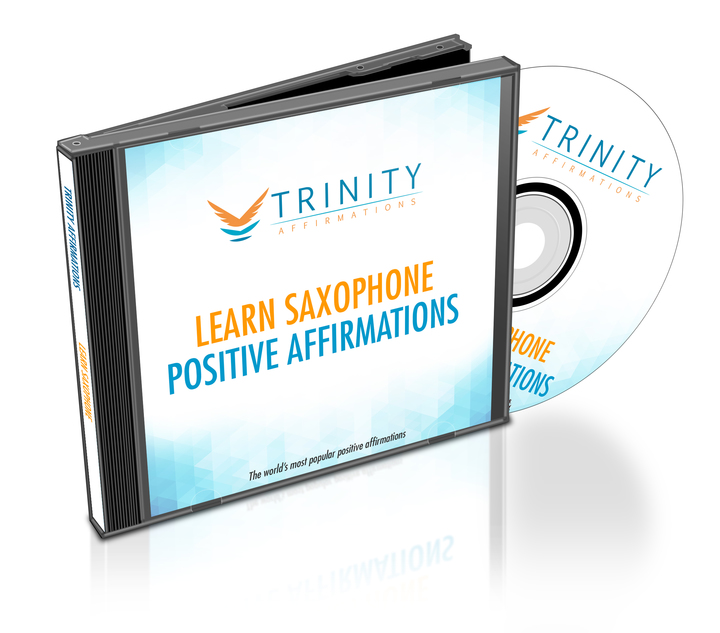 Are you having trouble taming that sax?
Did you find it easy at first, but now mastering the saxophone seems impossible?
Do you get tired quickly and wish to do something else when you should be practicing?
Do you want to learn a method that can help your dream to become a famous sax player come true?
Saxophone is one of the most seducing musical instruments on Earth. It sounds smooth and soft, you can play almost anything with it and the pro musicians who play the sax with style often become popular too.
So, you were happy with your call and everything went well at first. You picked up the basics fairly easily.
But then everything changed. You hit a brick wall and you aren't making any progress, whatever you do.
Your co-ordination is poor, you fall out of rhythm and you simply can not play more complex melodies.
Maybe you didn't choose the right instrument after all. Sometimes, declaring defeat is the smart thing to do.
But wait. Before you call it quits, there is something else you should try out.
This unique learn saxophone album will help you ditch any self-doubt, limiting belief or fear standing in your way. Repeating the affirmations day in day out will smash the "it's not meant to be" attitude and replace it with the "I'll succeed no matter what"!
Just like you need to sync your breathing with your finger-work, you want to align your mind with your body. Our learn saxophone affirmations will train your mindset so you can reach your maximum sax playing potential.
What to Expect
Affirmations will rewire your brain and instill a new set of beliefs, which will:
Help you stay focused on your practice objectives. As the obstacles like self-doubt clear out from your path, you will focus better on every aspect of your playing. No more attention drift-offs. No more self-beating if you don't hit that melody the first time. Only pure concentration on your breathing, stance, melody and notes. As a result, you will play every note accurately, with great breath support and perfect timing. Sooner than you can imagine.
Boost your self-confidence through the roof. Playing sax is rarely about playing, alone. Overall performance counts too. So relaxed, open body and a balanced stance are pretty important if you want your audience to take you seriously. More so, these affect your playing skills too! There's nothing better to improve your self-confidence than listening to this learn saxophone album every day. You will be able to picture yourself as a true sax superstar. A legend, a professional and that is what you will be.
Upgrade your motivation . You can't let your motivation be on a seesaw. One day you are determined to give everything you've got and become a great sax player and the next, you don't feel like practicing because it's a beautiful day outside. If you listen to our learn saxophone affirmations regularly, they will fortify your motivation to reach your full potential as a saxophone player and keep you on track until the day you can congratulate yourself and celebrate.
Download our free app for iPhone/iPad today and listen immediately after your purchase- just search the App Store for Trinity Affirmations.
Don't waste another minute. Download this powerful affirmations audio now, speed up your learning pace and sound like a true sax legend fast.
Present Tense
I am learning to play the saxophone
I am committed to practicing
I am a skilled musician
I can read music well
I am talented
I enjoy practicing
I retain new information well
I learn quickly and easily
I am a saxophone player
I concentrate easily
Future Tense
I will stay focused on playing the saxophone
I will become a saxophone player
I will practice regularly
I will learn to read music
I will concentrate
I will absorb information easily
I will be known for my saxophone skills
I will enjoy practicing saxophone
I am improving my saxophone playing
I will understand music
Natural Tense
Playing saxophone comes naturally to me
Practicing is fun
Reading music is easy for me
My concentration is high
My mind is focused on learning
Absorbing new information is easy
Saxophone playing feels natural
Others know me as a saxophone player
Learning is fun
Music is part of who I am