Learn Trumpet Affirmations
Learn to play trumpet like a pro at a much faster rate than you'd normally do, with help of this powerful affirmations audio.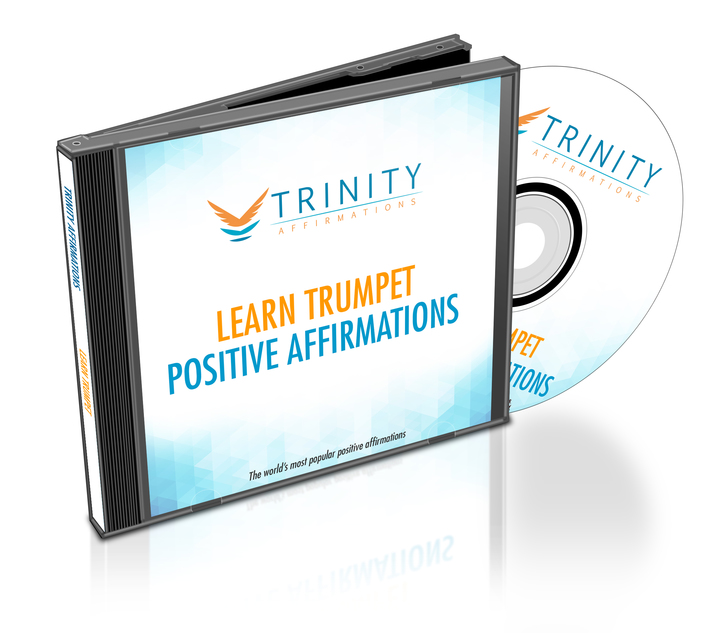 Do you struggle to see an improvement, even when you've practiced a lot?
Is focusing on the trumpet lesson you're practicing too difficult?
Would you like to speed up your learning curve and learn how to play the trumpet like a maestro?
Who inspires you? Is it Louis Armstrong, his confidence, and the energy he plays with? Or maybe Wynton Marsalis and his artistry and virtuosity?
You can't stop admiring how naturally playing the trumpet comes to them. It's like their second nature. You listen to them playing and they touch you. All that jazz delights you and takes your soul to a place of joy and spirituality.
It goes without saying you fantasize about playing just like your trumpet heroes. You want people applauding and admiring your skills.
Yet, this is where the dream ends.
Because, when you pick up your instrument, your hopes and aspirations smash.
Into pieces.
You make a mistake after mistake. You can't seem to coordinate your mind, breath and your hands. You're having trouble focusing on your notes and the sounds your trumpet makes resemble music only on rare occasions.
But most of all, you just can't see yourself playing the trumpet with such confidence and ease as these flamboyant artists do. And inevitably, you end up beating yourself about it.
It doesn't have to be that way. Because learn trumpet affirmations can help.
Listening to the audio regularly can improve your motivation, your focus, and your self-confidence.
Not that the affirmations work like the magic pill that will somehow turn you into Louis or Wynton. But if you listen to them often enough, you'll be able to "feel the music" much better. Your rhythmic timing will improve, your motivation will raise and you'll take a plunge into the trumpet lessons deeper than ever before.
Maybe, in the end, you won't perform like Louis or Wynton (though, who's to say you can't). But, when you take that trumpet, after a few weeks of listening to the affirmations and practicing, you will feel as if these trumpet masters are cheering YOU on.
And you'll almost be able to hear them saying: "Go get it, man!"
What to Expect
These learn trumpet affirmations audio works in 3 main areas:
It fortifies your motivation to master playing the trumpet. When your dream to dazzle your audience with your trumpet playing skills seems out of your reach, your motivation to fulfill that dream is low. You don't assume you can. But as you listen to our audio, as your self-confidence grows and your dream seems closer and closer, your motivation to reach "the unreachable" and make it a reality will peak too.
Give you a virtuous trumpet player mindset. Think of this album as a hammer that will strike by strike knock down the wall between you and the solid belief that YOU ARE a virtuous trumpet player. After listening to them every day, you will pick up your instrument with confidence and elegance of a pro. This has nothing to do with how long you have played the trumpet by now. And when you become that sure of your skills and knowledge, you can bet you will play and perform like a maestro too.
Focus your attention and your thoughts on becoming virtuous. This album will stop your mind from drifting away when you need to practice. The affirmations will help you sharp focus your mind to the partition you're trying to learn and speed up the whole process.
Download this learn trumpet affirmations audio now and start pondering on the outfits you wish to perform in. Because you'll be killing it!
Present Tense Affirmations
I am a trumpeter
I am quickly mastering the trumpet
I am a great trumpet player
I am a confident musician
I am tuned in to a musical rhythm
I can read music
I have strong lungs
I concentrate well
My mind and body are musically in sync
I play the trumpet well
Future Tense Affirmations
I will play the trumpet
I will practice regularly
I will learn to read music
I will focus on music
I will be known as a trumpeter
I will develop my talent
I will feel the music
I will become a trumpet player
I will develop my musical intuition
I will enjoy practicing
Natural Tense
Playing the trumpet comes naturally to me
Music is a deep part of my soul
Reading music is easy
I can easily feel the rhythm
Others see me as a musician
Practicing is fun
My mind is naturally focused on music
My concentration level is high
I can easily lose myself in playing the trumpet
Trumpet playing brings joy to my life