Enjoy Work Affirmations
Become passionate about your job and improve your performance while doing something you enjoy with the help of this positive affirmations audio.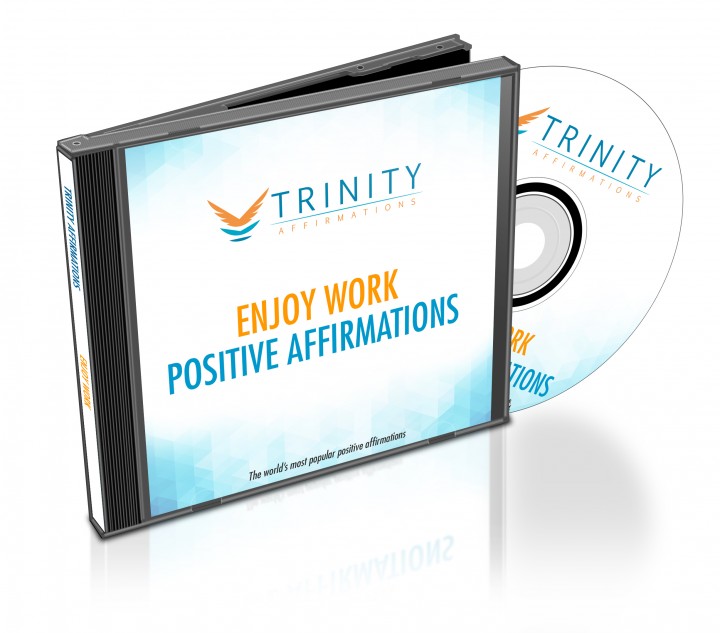 Do you hate it when you have to go to work?
Do you feel that your job is sucking your energy out?
Is stress at work spilling over to your personal life?
Do you think your life would be any easier if you enjoyed your work, if you felt it as a fulfilling part of your life and something that energizes you?
Stories of people who love their jobs may seem like a fairy tale to you, but they're real. Some people are passionate about what they do for a living and instead of viewing it as a chore, their work is something that makes them feel good, confident, something that completes them and even influences their personal life in a positive way: because their job fulfills them, they're happier and they can really enjoy the time they spend with friends and families.
Imagine what your life would be like if you were able to put your heart into your work, to feel energized by it instead of feeling like you were drowning.
Imagine that you were actually paid to do something you'd be doing anyway, just because you loved it! Not only would you be feeling better about yourself and about the time you spend at work, you'd also be more motivated to build your career, to put more effort into it and to really enjoy the whole process.
The only thing that keeps you from having that kind of life is - you!
The patterns that have developed in your mind are putting your job in a negative perspective and whatever happens at work is only confirming that depressive and irritating image: the bad things get even worse and you probably don't even notice the good things about it, because you're programmed to think that everything about your job is nothing less than pure evil (or close).
This programming is something you've done yourself over the years by unconsciously choosing to enhance only the bad experiences related to your work. The good news is that it's also you who can reprogram your mind - by choosing to enhance the positive experiences and that's what this album can really help you with.
By playing it you will consciously expose yourself to the positive statements related to your work experience and you'll soon see the first benefits of it.
What to Expect
The longer you listen to this album the deeper these messages will penetrate your mind and:
Focus your attention to the benefits of your work. You will notice that you're seeing more good things about it, that you're able to find something pleasant even in the most annoying colleagues and that you're looking forward to completing your tasks. You will start paying more attention to the rewards of doing a good job and remove your focus from the momentary setbacks.
Make you more confident. The big part of you hating your job is probably related to the fact that you're not making a real effort and that shows in your results - and you're somewhat conscious of it. As you start finding your job more inspiring, you'll be more motivated to give your best and it will soon start reflecting on your results. This will directly influence your performance and can have a great impact on your career.
Remove stress from going to work or just thinking about it. Your resistance towards your tasks and your job in general will slowly melt away. You will accept your work as an important and fulfilling part of who you are, you will naturally become more ambitious and you will just be the kind of person who is really satisfied with their life.
This is really a life changing album; your job is a huge part of your life and when you make it one of the most enjoyable parts of it as well, it will just spill over into all other areas.
Download our free app for iPhone/iPad today and listen immediately after your purchase- just search the App Store for Trinity Affirmations.
Download this album now and make one of the most important positive changes in your life by simply changing the way you view your work!
Present Tense
I find it easy to keep a positive attitude in regards to work
I am always enjoying myself at work
I am confident
I am the most happiest when I am working hard
I enjoy going to work
I am good at my job
I find it easy to get along with my work colleagues
I always look forward to going to work
I am just naturally motivated and driven
I effortlessly get through my work day
Future Tense
I am becoming more motivated and driven
I will become more positive about work
I am finding myself more connected to my work colleagues
I am turning into someone who is happy at work
I am finding myself looking forward to work
I will become confident
I will become good at my job
I am turning into a hard worker
I am transforming into someone who enjoys work
I am becoming more happy while at work
Natural Tense
I find myself always looking forward to work
I have an abundance of confidence
Being good at my job is something I pride myself on
Being happy at work is my natural rite
I love hard work
Getting on with my work colleagues comes naturally to me
Being motivated and driven is a positive thing in my life
People see me as someone who enjoys work
Having fun at work is something I always do
Work is great