Entrepreneur Mindset Affirmations
Use this transformational affirmations audio album to program your mind to think like a naturally born entrepreneur and provide massive support to the only thing that has to work flawlessly in your entire business plan - you!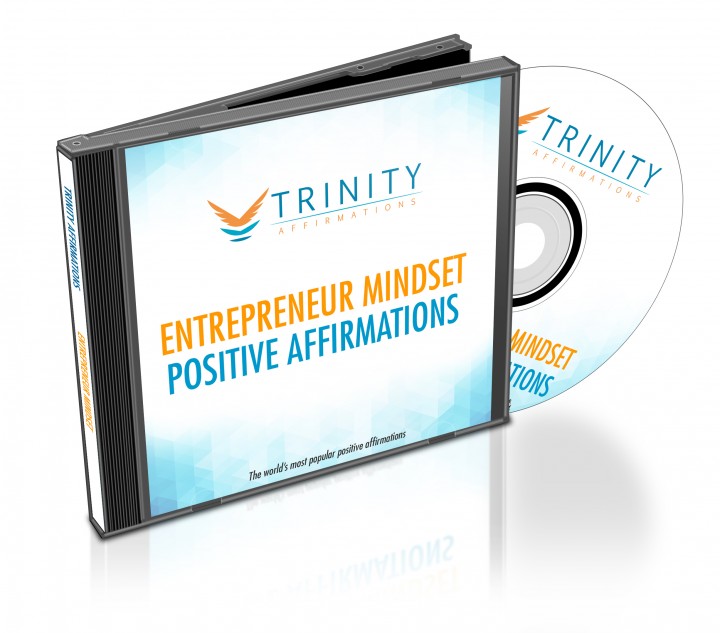 Are you thinking about starting your business?
Do you long for greater job satisfaction, more independence and a better work/life balance, but you're afraid of what might go wrong if you were headed that way?
Do you want to be sure that you're on the right track and to make a solid base for healthy growth of your business?
When you work in a company there are times when you're fed up with everything and think about starting your own business. The thought grows in your mind and you dream about how great it would be to be completely independent, to plan your time the way it suits you, to work for your own benefit instead of someone else's…
You get the idea for a business that you'd like to start and you're seriously contemplating it. You start collecting more information, things look good and you think you have it all in place - except for one thing: you're not sure if you'll be able to pull it off. The plan you have is tempting, but you don't dare to make the crucial step - to actually start the business and leave the job that pays the bills. Because, what if you failed?
Do you understand that, unless you change this kind of reasoning, you really won't be able to pull it off?
What will probably happen is one of two things: you will either get into it with fear and struggle for years until you fail or the fear won't let you to start the adventure at all and you'll be stuck wondering "what if" for the rest of your life.
If you don't want to experience regret for not even trying, if you really want to become a successful entrepreneur you have to adopt the right mindset for it: you have to become fearless, analytical, resourceful and action oriented. You have to become an entrepreneur in mind, to start thinking like one right before you start acting like one.
That's where this affirmations album can help you: it contains statements that are specifically designed to program your mind to adopt the reasoning and beliefs of an entrepreneur who lives and breathes his business, who is devoted to making it the best possible and who doesn't fear anything that comes next. Successes, challenges, daily routine and unexpected situations - with the right attitude you will be able to handle it all with ease!
What to Expect
The album is designed to target two main areas that will help you to acquire the entrepreneurial mindset:
Your confidence in your abilities. You're the crucial part of your plan and you can't afford to doubt yourself, your choices and decisions. These affirmations will help you to regain confidence in your abilities and in your business plan; you will question them until you're sure that you've covered all the important things, but when the moment is right you will stop looking for the excuses and confidently dive right into it.
Your focus on your business. The album was designed to help you to stay focused on your plan. You will keep your eyes open for everything related to the situation in your market and be able to adjust your ideas and business plan according to it. This sharpened focus will also act as a powerful motivator, because the image of success will become so present in your mind that you'll be driven to work hard to make it happen.
As your mind adopts this way of thinking, you will then be naturally programmed to face every challenge of the life of an entrepreneur - you will fully understand that you're completely responsible and you will be devoted to doing it all right.
Download our free app for iPhone/iPad today and listen immediately after your purchase- just search the App Store for Trinity Affirmations.
Take the first step towards your financial and business independence today - download this powerful album and acquire the way of thinking of the most successful entrepreneurs!
Present Tense
I am a successful entrepreneur
I am dedicated to succeeding in business
My business offers a superior service/product
My business adds value to the community
I am a business expert
I am totally focused on taking my business to new heights
My business plan is perfect
I am driven to excel in everything I do
I always come up with brilliant business ideas
I believe in my ability to be successful
Future Tense
I will become a highly successful entrepreneur
There will be a massive demand for my business
My business will take the industry by storm
I will succeed no matter what
Others will be naturally drawn to my business
My customers will be satisfied and refer others to my business
I will defy the odds and create a successful business
My belief in my business is increasing every day
I will provide outstanding service to my customers
I am becoming a highly successful entrepreneur
Natural Tense
I am a natural born entrepreneur
I have all of the necessary experience for starting a successful business
Managing a budget, inventory, and people are skills that come naturally to me
Others recognize my exceptional business ideas
I am a great business leader
I have an unstoppable desire to build my own business
Dedication and persistence come naturally to me
Budgeting my business is easy for me
I remain calm and collected when under pressure
My natural business skills will shine through