Overcome Fear of Death Affirmations
Don't let fear of death prevent you from living your life to the fullest with the help of this transformational MP3 audio.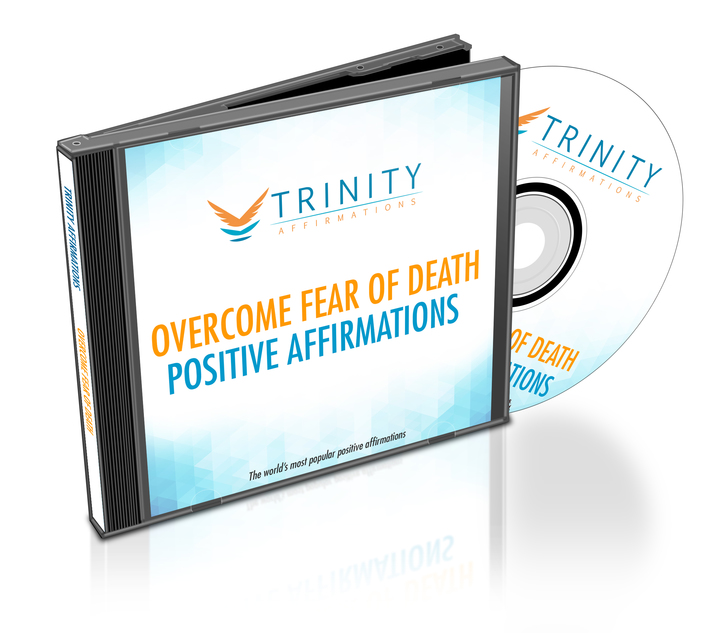 Do you avoid going to funerals, even when a person close to you passes away?
Do words like death, dying, corpse, funeral or coffins make you nervous or worse?
Do you realize that extent of stress is harmful, but it's beyond your control?
Would you like a proven method to help you get your fear under control and start enjoying every aspect of your life?
There'll be two dates on your tombstone and all your friends will read 'em but all that's gonna matter is that little dash between 'em.~ Kevin Welch
Thinking about death isn't easy. The fact that all of us will have to face the pain of death and dying,as well as the sadness when somebody dear to our hearts leaves us is upsetting and unpleasant.
When the time comes and we cannot escape confronting death and saying goodbye to the gift of life, intense emotions are inevitable.
So, it's only normal to think about death every now and then. You would be irresponsible if you ignored this tremendous part of being a human.
But, as counterintuitive as this may sound, death "gave us a gift in return."
It teaches us that life is short and we should live our lives to the fullest. Use our potential to grow, love and enjoy. To have as few regrets as possible.
To be fierce when we run into obstacles in our way.
However, the negative thoughts about death obsess you. You "freeze" far too often when death comes to mind and your phobia is out of your control.
But you can stop worrying now.
If you're ready to accept this one positive thing death has to offer, then listening to Overcome Fear of Death Affirmations will help you get over your anxiety and celebrate life.
Although, the album is not the cure and it would still be wise seeking professional help. Even more so if your symptoms are severe.
Nevertheless, this album will feed your mind with rational attitudes towards death.
Saying the affirmations will make the fear-free and easy-going life you desire seem close and within your reach.
And the truth is, it will be.
What to Expect
Listening to this audio will help you:
Imagine living your life without the fear of death. Strong visualization skills are of enormous help when it comes to dealing with phobias. With these powerful affirmations, you will picture yourself calm and relaxed when death comes to mind, or when someone talks about the topics related to dying. When you "see" yourself tranquil, capable of having a peaceful conversation about death, you've won half the battle!
Focus your mind on reality. Right now, your mind is telling you that death is threatening you all the time. When you repeat these affirmations, you will convince your mind otherwise. You will feel safe. You will notice that the dark thoughts about death, coffins, funerals and corpses lose their power and appear in your mind less often.
Boost your belief that you can do it! Affirmations will increase your self-confidence that you can beat this irrational fear. You will soon be confident that you can control your thoughts and emotions which accompany them. You will believe you can be calm at funerals and that you can think about dying without dread.
Download our free app for iPhone/iPad today and listen immediately after your purchase- just search the App Store for Trinity Affirmations.
Download your MP3 Overcome Fear of Death Affirmations today! It's time to get back control over your life and cherish every minute of it.
Present Tense
I am calm when thinking about death
I am free from fear of death
I am calm at funerals
I can speak easily about death
I live life to the fullest
I have cured my fear of death
I am in control of my thoughts
I am calm when thinking about dying
I am unafraid of dying
I always live for the present moment
Future Tense
I will let go of my fear of death
I will be calm at funerals
I will be in control of my thoughts
I will talk about death easily
I will live life fully
I will lead a carefree life
I will accept death and live life to the fullest
I will stay calm when thinking about dying
I will release my death anxiety
I will live fearlessly
Natural Tense
My life is full
Others see me as a carefree person
My fear of death is gone
Thinking of death is no big deal
I am naturally at peace with death
Controlling my thoughts is easy
I embrace the cycle of life and death
I have a fearless and joyous attitude towards life
Being carefree comes naturally to me
Death is just the next stage of life