Overcome Fear of Dogs Affirmations
Don't let your fear of dogs take away from the quality of your life. Use this powerful affirmations MP3 and enjoy yourself wherever you are.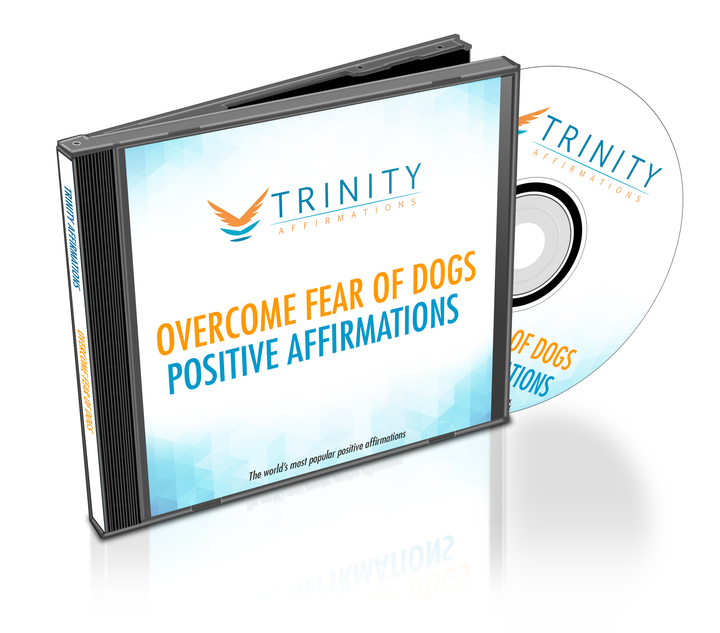 Do you avoid going to places where you might get in contact with dogs, like parks or friends with dogs?
Do your friends laugh at you because even chihuahuas terrify you?
Are you aware your fear doesn't have to do with real danger, but you have no control over it?
Would you like a way to get rid of this troubling fear and enjoy every aspect of life totally worry-free?
Why people get all mushy around dogs and puppies is an absolute mystery. To you, they are just smelly animals with bad breath, too much fur and sharp teeth.
Yes, even the poodle and Labradoodle puppies.
Now, you've tried to rationalize this many times - and you don't get it. What is not to like? Dogs are beautiful, friendly animals and some of your best friends love them.
So, why can't you?
Because you are afraid of them. As much as you hate to admit this and as much as a strong urge to run away even from a chihuahua is so embarrassing when a dog approaches, you freak out.
Your hands sweat, your heart pounds like crazy and you feel as if a crocodile is attacking you.
The saddest part is, you can't control it. This fear overwhelms you and there's nothing you can do about it.
Except, now there is.
Overcome Fear of Dogs Affirmations can help you beat your dread and accept dogs as friendly creatures as they are.
So whether you "picked up" this fear when you were a child or you have once had an encounter with a particularly nasty dog, your mind applied your reaction to all dogs you come across.
Although our affirmations album corrects this glitch, it is not the cure.
It would still be wise seeking professional help - even more so if your symptoms are severe.
Still, when you listen to the audio, you will gradually replace your negative beliefs with the positive ones and hence,reprogram your mind.
As you repeat your favorite affirmations, you will react to dogs much more calmly.
You will become self-confident around dogs and in time, you will even come to appreciate their lovable nature and their inherent desire to please humans.
You may even wish to get one for yourself!
What to Expect
Listening to this MP3 album will help you:
Build a strong belief that you can become comfortable around dogs. Right now, you can't imagine yourself seeing an approaching dog and not freaking out. But if you listen to Overcome Fear of Dogs Affirmations, you'll soon find your self-confidence improves. The dog-related catastrophic scenarios and thoughts will stop haunting you and your belief that you'll be capable of dealing with dogs, even petting them, will increase in time.
Visualize yourself being calm around dogs. Imagination is a mighty tool. When you picture yourself visiting friends who own a dog and having a relaxed conversation with them while the dog is around, you've won half the battle and this album will encourage you to create pictures like that in your head.
Ditch the negative beliefs that cause you to dread dogs. Repeating the affirmations will rewire your brain so that the realistic, positive beliefs about dogs will replace the negative ones. Dogs can be aggressive as can people. But the truth is, the vast majority of dogs like people and would do anything to protect them, earn their trust and affection and that's exactly the belief our affirmations album will help you instill in your mind.
Download our free app for iPhone/iPad today and listen immediately after your purchase- just search the App Store for Trinity Affirmations.
Download this album today to reprogram your mindset fast and start enjoying the company of man's best friend!
Present Tense
I like dogs
I think dogs are friendly
I enjoy watching dogs
I feel safe around dogs
I am unfazed by barking dogs
I visit friends with dogs
I lead a carefree life
I am courageous around dogs
I have overcome my fear of dogs
I am calm around dogs
Future Tense
I will overcome my fear of dogs
I will stay calm around dogs
I will enjoy walks in the park among dogs
I will lead a carefree life
I will visit friends with dogs
I will learn to enjoy the company of dogs
I will enjoy watching dogs
I will be free from fear
I am beginning to really like dogs
I am beginning to feel safe around dogs
Natural Tense
Watching dogs play is fun
Dogs are friendly
Barking dogs are funny
My friends know I'm comfortable around their dogs
My life is relaxed and positive
Walking in the park is relaxing
Dogs are safe and friendly
My fear of dogs is gone
Dogs are fun to watch
Dogs naturally like me