Stop Paranoia Affirmations
Crush your paranoia with help of this transformational audio and enjoy the fear-free life you deserve.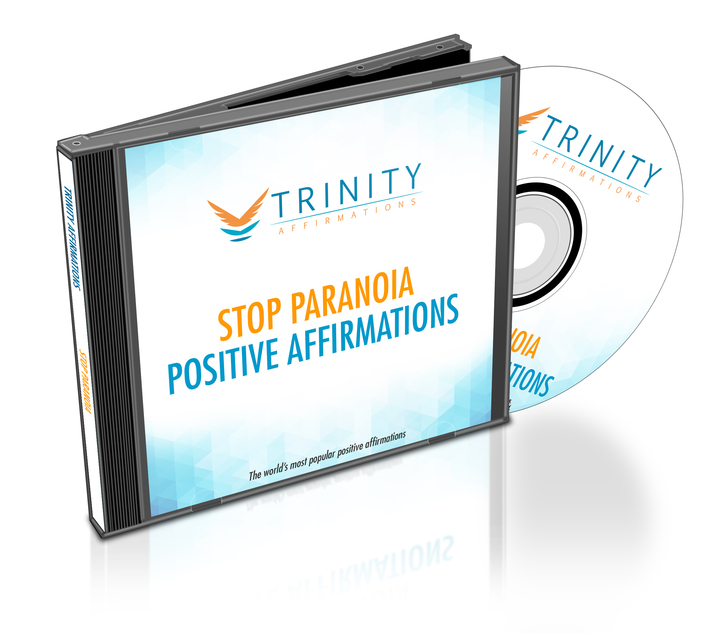 Are you suspicious every time you meet someone new and look for proof that something is wrong with them right away?
Do you miss out a lot on your social, professional or even love life, because you worry people will laugh at you and mock you?
Do you sometimes feel people conspire to hurt you?
Would you like a proven method to help you tame your paranoia, break free and reclaim your inner peace?
You must be exhausted, lonely and sad.
Your thoughts are always fighting, weighing between: "Does she really look at me strangely or am I imagining things again?" You wish you could talk to someone but you are afraid they would hold anything you say against you. Or hurt you some other way.
Even though deep down you understand your life isn't supposed to feel like that, all these thoughts and emotions seem so real to you. You can't help it. You can't control them.
So you live a life of solitude and you're exhausted.
But don't give up hope just yet!
Even if your paranoia symptoms are not this severe but you don't feel comfortable and at ease around people, new or familiar, you deserve better and you know it.
This is where our powerful yet simple tool steps in.
Overcome Paranoia Affirmations are not the cure for Paranoia. The album cannot replace professional help and you should seek therapy.
However, this audio can make a real difference.
You see, the reason you experience fear and stress is that your mind is trying to protect you from the situations and people it perceives as "dangerous". An event, trauma or maybe a betrayal of your spouse triggered your mind to act this way.
Although our album is not the cure for paranoia and you would be wise to seek professional help too, listening to and reciting the affirmations will reprogram your mind to relax around people and consider them friendly and helpful.
Your thoughts also play a big part in how you deal with paranoia. If you welcome and nurture the thoughts that something bad will happen when you're out and mingling, despite the fact that this is beyond your control, the cascading effect takes place and the anxiety kicks in.
But if you affirm every day, in a safe environment, that you are calm and relaxed around people and that they mean you no harm, your mind will internalize those thoughts.
Imagine how much happier you'd be if you shared your life with others and broke free from your worries and fears!
What to Expect
Listening to Stop Paranoia Affirmations album will help you:
Imagine yourself free. Great visualization skills are of enormous help when it comes to paranoia and anxiety. With this positive audio, you will be able to picture yourself self-confident and calm outdoors and among people. When you "see" yourself chatting with someone and wearing a smile on your face, doing it for real will only be a matter of time.
Focus your mind on reality. Right now, your mind is telling you that interfering with people is not safe. Repeating these affirmations will convince your mind otherwise. You will notice that your thoughts about the dangerous thoughts lurking from other people' minds have lost their power and appear less often. Soon, you'll be open to connecting with your friends and meeting new ones.
Boost your belief that you can do this! Affirmations will increase your self-confidence. They will awaken your inner strength and you will understand that you are more than your mind and your body. You can gain control over your life and be whole again!
Download our free app for iPhone/iPad today and listen immediately after your purchase- just search the App Store for Trinity Affirmations.
Download your MP3 Stop Paranoia Affirmations today. Time to let others in, open up and live your life to the max!
Present Tense
I am safe
I can trust others
I can trust myself
I believe in other people
I am free from paranoia
I am secure in myself
I am able to trust
I am free from anxiety
I am a confident person
I am in control of my fear
Future Tense
I will learn to trust others
I will take control of my emotions
I will think rationally
I will overcome my fear
I will break free from paranoia
I will trust myself
I will feel safe with others
I will confide in others
I will trust my secrets with others
I am building confidence
Natural Tense
Others are genuine
Other people want to help me
Trusting people comes naturally to me
My feelings are safe with others
My anxiety is controlled
My paranoia is gone
People are friendly
People can trust me
Other people are trustworthy
Being around others makes me feel safe