Improve in Basketball Affirmations
Become the basketball star you always dreamed of being, with the help of this unique affirmations album.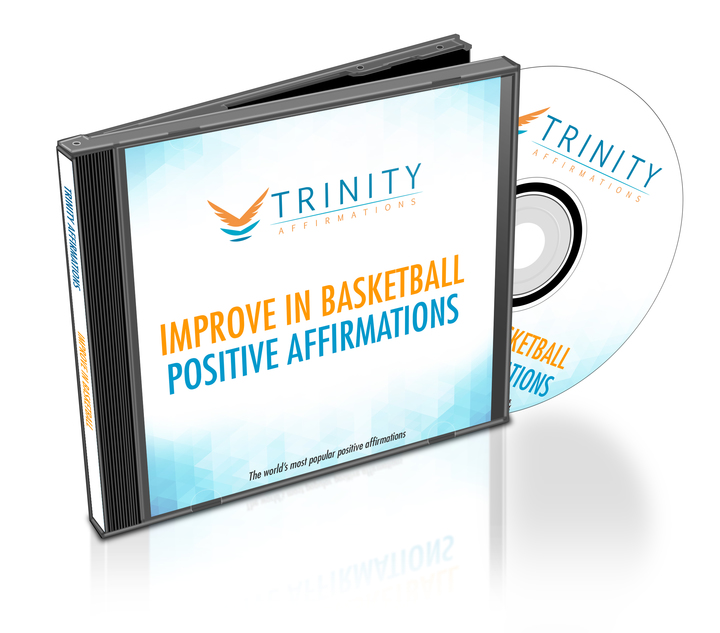 Are you finding it hard to bring your practice game to the competition?
Is it difficult to maintain your attention in stressful situations on the court?
Do you struggle to keep your confidence and stay in control of your performance?
Do you wish you could master the sharp focus, cool composure and absolute self-assurance of a superstar basketball athlete?
Basketball players invest a lot of time and effort to improve their technique and acquire the physical skills needed for optimal performance on the court. However, in order to become complete all-around players, they also have to dedicate themselves to developing mental strength that will complement their physical abilities and enable them to truly excel.
If you want to get the most out of your natural talent for sports and your hard-earned shooting, dribbling and passing skills, you have to be aware of the importance of improving your mental game.
No matter how physically conditioned you are as a player, you will never be able to achieve your athletic potential if you cannot cope with the stress of the competition, or if you have difficulty maintaining your focus and consistency of your performance.
What separates NBA superstars from other talented players are their supreme self-confidence, exceptional resilience and fortitude and clarity of mind in the crucial moments of the game.
Do you wish you could develop the same winning mindset that brought them to the pinnacles of their careers as professional basketball athletes?
This affirmations album is designed to install the strong, positive attitude in you and tenacity of spirit you need to reach all your basketball goals!
Practice them regularly and they will empower you to embrace the challenge of big game pressure and preserve your composure and full control of your performance. Affirmations will give you the boost you need to break through your self-imposed limitations and take your game to the next level.
What to Expect
Our simple, yet highly effective affirmations will give you the right mindset to unleash your natural basketball potential. Recite them regularly and before you know it you will find:
You embrace pressure and remain calm and poised to win. Anxiety and stress can slow you down and affect your judgment, causing you to become over emotional and make bad decisions and mistakes. What defines a basketball champion is the ability to thrive under the pressure of competition. Affirmations will give you the tools you need to turn the most stressful moments on the game to your advantage. Instead of allowing high-pressure situations to overwhelm you, you will be able to use them to heighten your senses and fuel up your energy to give your best performance when it counts the most.
You have supreme self-confidence and total control of your performance. The way you think determines the way you act, so taking control of your mental processes is extremely important for any athlete. Basketball players sometimes beat themselves up because of a missed shot or an errant pass and allow negative thoughts to rob them of their confidence and composure. Listening to this affirmations album will enable you to smoothly bounce back from past mistakes and block out discouraging thoughts, that prevent you from giving your maximum. You will be able to develop strong self-assurance and profound inner belief in your abilities, so that you can keep pushing your limits every time you step out on the court.
You maintain perfect composure and laser-like focus on the game. As you step up to the foul line it is extremely difficult to concentrate on the shot with everything that is going on around you, on and off the basketball court. Distractions are mental barriers that obstruct your focus and affirmations are there to help you acquire the skills you need to overcome them. Practicing these powerful statements will train your mind to disregard all information that is irrelevant to the present moment and redirect your attention only to the task at hand. The ability to stay alert and focused will give you that extra edge over your competition and take your performance to an even higher level of achievement.
Download our free app for iPhone/iPad today and listen immediately after your purchase- just search the App Store for Trinity Affirmations.
Set your goals high and develop a winning mindset to reach them! Download this mp3 album and begin your journey to basketball stardom today!
Present Tense
I am a talented basketball player
I am focused on training
I am a fast runner
I am a skilled dribbler
I score effortlessly
I am driven to win
I am a successful basketball player
I have an accurate shot
I play basketball well, like a pro
I am a dedicated player
Future Tense
I am improving at basketball every day
I will score huge amounts of points
I will develop into a pro player
I will do everything possible to win
I will shoot hoops like a pro
I will dribble smoothly
I will pass the ball accurately
I will practice often
I will focus my mind on becoming a top level basketball player
I will become a great basketball player
Natural Tense
Playing basketball comes naturally to me
My focus at practice is unshakeable
My game is improving
My skills are impeccable
My presence on the court makes my opponents tremble
Basketball is my sport
Practicing basketball is fun
My mind is always focused on winning
Winning is natural and normal for me
My reflexes are extremely sharp