Improve in Tenpin Bowling Affirmations
Acquire the mindset that will make you stretch your limits and reach your full tenpin bowling potential with the help of these powerful affirmations.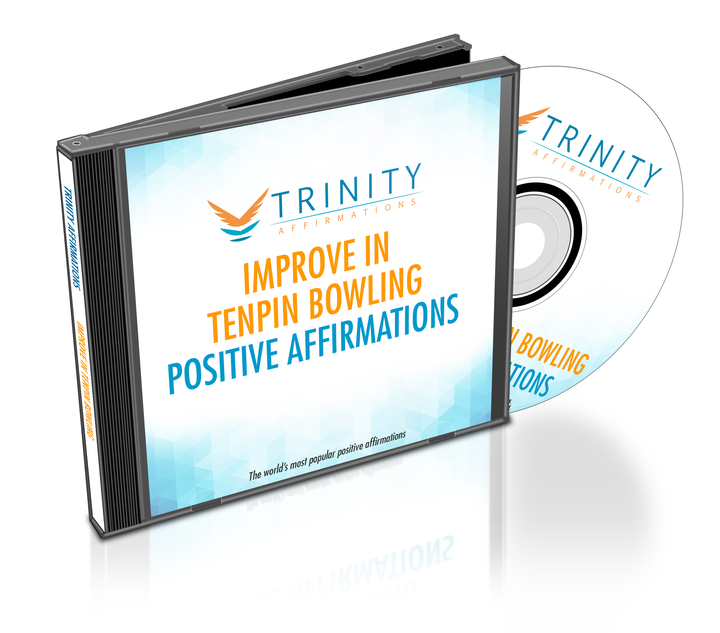 Is your lack of focus undermining your bowling abilities?
Is the pressure of the game sometimes too much to handle?
Are you looking for that extra push to take your bowling skills to another level?
Do you wish you had the power to ignore distractions, maintain a deep level of concentration and always be at the top of your game?
One of the most popular family activities the world over, tenpin bowling is a game anyone can play. Although it is beneficial to work on your flexibility and muscle strength to be able to control the heavy bowling ball, the set of skills required to excel do not necessarily include supreme physical prowess. Top bowlers need to develop a smooth approach, perfect aim and effective arm swing, but it is their mental skills that they have to work on the most.
In a sport like a tenpin bowling where games are won or lost by very small margins, your mindset can be the crucial factor that determines the final outcome. As any elite bowler capable of scoring a perfect 300 would tell you, it's their ability to focus and keep their cool under pressure that gives them the confidence and a sense of mastery of the game, necessary to win that trophy.
Tenpin bowling is a suspenseful and exciting sport and mental skills like handling stress and maintaining control and attention, do not come easy.
Just like physical skills, it takes repetition and dedication to develop them and make them second nature.
This affirmations album is specially designed to help you achieve this!
These positive statements will instill in you, the confidence to calmly handle the most intense situations and the motivation to concentrate on taking your game to another level.
Whether you aspire to win a championship or you simply want to impress your friends at the next get-together, affirmations will enable you to develop the correct mindset that will underpin your bowling technique and make you get that strike every time.
What to Expect
Practice these affirmations routinely to watch your bowling skills flourish and your dreams of winning that coveted tournament trophy become true. Soon you will discover that:
You are self-confident and have your emotions under control. There are times when things are just not going your way and you find it impossible not to dwell on that ball that ended up in a gutter. Negative thoughts start praying on your confidence and you become anxious and irritated and completely lose faith in your abilities. Affirmations will help rewire your brain to block the discouraging thoughts and keep your temper from flaring up. Instead, you will gain supreme confidence to quickly recover from a bad frame and concentrate your energy on delivering your top performance.
You can handle pressure with ease and maintain control of your game. It's the 10th frame and everything hinges on your final ball. Whether you will buckle under pressure or rise up to the occasion depends on how strong is your mindset. You need to train your brain to maintain poise, concentration and emotional balance under the most stressful and challenging situations. Ability to maintain your calm and control will give you that extra edge to put you ahead of your opponents.
You have iron-clad focus and the concentration of a champion. No matter whether you are bowling in a local club or at a major tournament, you are sure to encounter all kinds of distractions competing for your attention and it's hard to keep your focus locked on the pins at the end of the lane. This affirmations album will give you the tools to teach your brain how to process all the stimuli and concentrate only on the information that you need as you make your approach. The ability to maintain your focus will enable you to stretch beyond your limits and reach your full bowling potential.
Download our free app for iPhone/iPad today and listen immediately after your purchase- just search the App Store for Trinity Affirmations.
Ability to achieve your bowling goals comes from deep within you. Download this album and bring out the best in you to become a star bowler!
Present Tense
I am a great bowler
My release is smooth
My bowling arm is strong and steady
I focus on the pins perfectly
My mind is wired for perfect bowling technique
I am able to block out distractions
I always get a high score
I thrive under pressure
Others know me as a great bowler
I have a winning mindset
Future Tense
I will improve my score
I will focus on training
Getting strikes is becoming easier
I will block out distractions
I will uncover my potential in bowling
I will improve my accuracy
I will give my best effort
I will win at bowling
I will stay cool under pressure
I will improve continuously
Natural Tense
Bowling is easy
I can effortlessly rack up the strikes
I love bowling
Winning at bowling comes naturally to me
I can focus easily
Accuracy is one of my strengths
My bowling skills are obvious
Bowling comes naturally to me
My average score is climbing
My coordination is excellent