Improve in Ice Hockey Affirmations
Use this empowering affirmations album and find the drive and motivation to be the top-notch ice hockey player you always dreamed of becoming.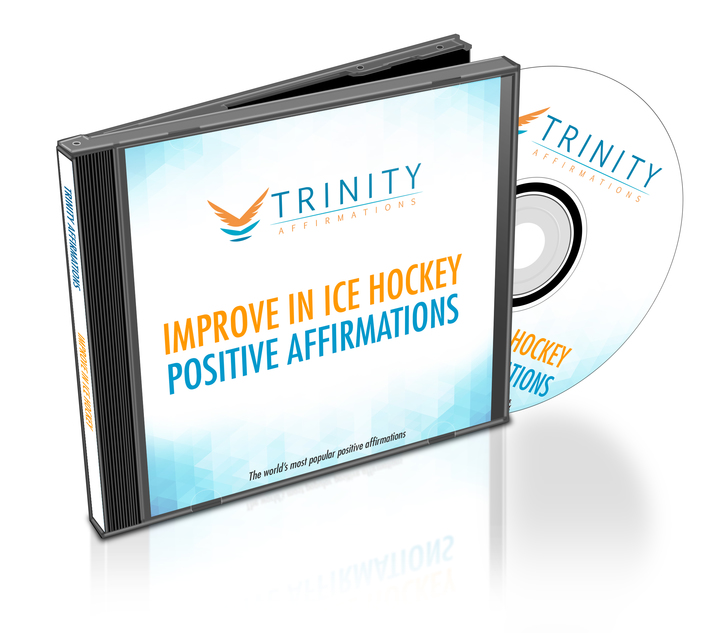 Do you find it difficult to focus on the game when it counts the most?
Are the frequent fumbles and mistakes making you lose your self-confidence?
Do you struggle to find the drive to practice and keep yourself in shape?
Do you wish you could learn how to handle the pressure so that you could stay alert, maintain strong focus and take your game to the next level?
Players know that in order to be at the top of their hockey game, they need to invest enormous amounts of time and effort in practice, both at the gym and out on the ice.
Although they sometimes struggle to find the willpower and drive it takes to fully commit to hard work on developing the physical ability needed for optimal performance, they often completely neglect to train their mental abilities required to compete.
Ice hockey is a fast, intense and exciting team sport and there is no doubt a player needs to be in great physical shape. But to handle the constant pressure of the game and keep playing aggressively, regardless of the opponent or the score?
Well, that requires a strong mindset and nerves of steel.
To be successful in ice hockey you need to be mentally strong to stay resilient to circumstances that can upset your concentration and maintain a high level of self-confidence to consistently perform at your peak, until the final whistle.
Affirmations are designed to help you achieve this! They will enable you to train your brain to perfect those mental aspects of your game so that you can always remain calm and focused and ready to handle the most challenging situations.
Begin reciting these affirmations regularly to uncover your true hockey abilities and set the ice on fire with your skills!
What to Expect
Develop your positive mental approach to ice hockey and stay centered and in control when the going gets tough. Our simple, but powerful affirmations will ensure that:
You are fully committed to your training routine and look forward to the next drill. Top players practice their game-winning moves thousands of times to be able to execute them smoothly and gracefully, even under the pressure of a major match. To hone your hockey skills you must commit yourself to a regular training routine and that takes incredible willpower and perseverance. This album will give you that extra push to stop finding excuses and start working consistently on your technique, speed and shooting accuracy. With your newfound drive and energy, you will reach your set goals and find you can take your natural talent and ability to the next level.
You are ready to push your limits and have the self-confidence to achieve your optimum performance. Players often find it hard to bounce back from a bad pass or a missed goal and end up dwelling on their mistakes and start doubting their skills. Such negative thoughts can spiral out of control and end up undermining their performance and destroying their self-confidence. Our affirmations album will help you to get rid of those negative thoughts that derail you from giving your best. They will boost your self-confidence and fire up your drive to break through those self-imposed limitations and take your game to the level you aspire to.
You are able to maintain a high level of concentration and a strong focus on the game. Keeping your mind clear and in tune with the flow of the game can sometimes seem like an impossible task. When you allow yourself to be intimidated by strong opponents, distracted by bad referee decisions or the importance of the match, you lose your ability to concentrate on the task at hand. This mp3 album will help you learn to block all that interferes with your concentration, maintain strong focus throughout the match and when that puck drops, your mind will be clear and in the zone.
Download our free app for iPhone/iPad today and listen immediately after your purchase- just search the App Store for Trinity Affirmations.
Ready to discover your true potential? Download this album and develop a strong winning mindset of a true hockey champion.
Present Tense
I am a skilled hockey player
I enjoy practicing
I am focused on winning
I am motivated to train frequently
I am an important part of my hockey team
I think like a pro hockey player
I am a great skater
I have perfect shot accuracy
I am aware of plays as they develop
I always get myself into scoring position
Future Tense
I will play become a great hockey player
I will practice regularly
I will train with dedication
I will perfect my passing
I will focus my mind on the game
I will think like a pro
I will transform into a scoring machine
I will always play my hardest
I am becoming a top-level skater
I will keep getting better at hockey no matter what
Natural Tense
Scoring comes easily to me
Winning feels natural
Practicing is fun
Skating comes naturally to me
Others see me as a great hockey player
I naturally think like a pro player
My shot accuracy is perfect
My mind is finely-tuned for ice hockey
I have a natural awareness for scoring opportunities
Being on the ice feels natural to me