Star Runner Mindset Affirmations
Rediscover your passion for running and take your skills to the next level with our powerful affirmations album.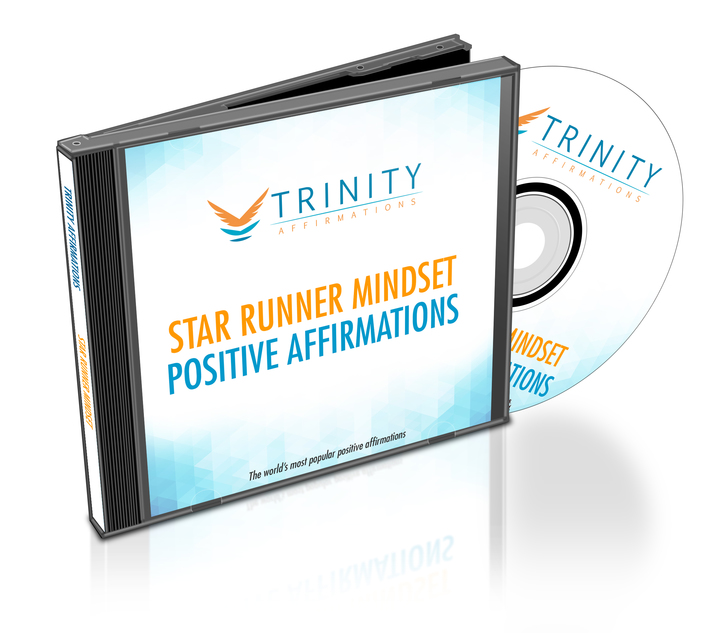 Do you find it hard to find motivation to run?
Are you often exhausted and sore, dreading the next workout?
Are you concerned that you reached your peak and that you just cannot surpass it?
Do you wish to improve your endurance and stamina to give you that extra boost in training and make you faster and more consistent on the race course?
Running is special because it makes you stay active and healthy without needing to invest in a lot of expensive equipment. It's a great cardiovascular exercise that is not only beneficial for your lungs and legs but also helps burn fat and lose weight. Running releases endorphins in your brain, which gives you the feeling of happiness and well-being, lowers your stress levels and increases self-esteem.
Successful runners possess the full range of fundamental athletic skills they acquire through regular workouts that strengthen muscles and joints, which can improve their stamina, race times and decrease injury risk. This requires commitment and dedication that sometimes can become quite overwhelming.
It's not easy to find the motivation and willpower to get out of a warm bed, lace up your trainers and get out of the door, whatever the weather.
Sometimes the sore muscles, aching joints and feeling out of breath make you lose self-confidence and drive. Watching other runners glide effortlessly pass you can be disheartening, especially if you think you are giving your best and yet failing to achieve your set goals.
In order to be a successful runner, it's important to focus not just on the physical aspect of running, but on the mental one as well. Whether you're a newbie or veteran runner, training for a race or simply re-discovering your love of running, your mindset will decide and determine your success.
If you keep telling your mind that you are just not good enough, your body will start to believe your mind. You have to change the messages your body is receiving, from the complaints and cries of pain and fatigue to a positive, strong message, that will reinvigorate your stride and empower your spirit and make you run like the wind.
Our affirmations album can help you achieve this! If you integrate these simple, yet powerful messages into your daily running routine you will see that your confidence has grown and you are conquering new distances with your energy and vitality restored.
What to Expect
This affirmations album will help you both mentally and emotionally to improve your running performance and your enjoyment of all the benefits that running has to offer, which will spill over into a better life beyond running, too. It will refocus your mindset so that:
You will have the motivation to train and always find time to run. Practice affirmations regularly and you will restore your drive and inspiration to define that goal and work steadily to reach it. They will help you develop that running mindset to keep you going when the going gets tough and to always get the most out of your running routine.
You can run through your muscle pain and fatigue. All runners experience those moments when their legs feel like concrete, their muscles start to cramp and the urge to quit becomes overwhelming. When you feel your legs just can't run anymore, play this affirmations album and it will give you that second wind and boost of self-confidence and energy you need to finish the run with a sense of accomplishment and joy.
You will run beyond your imagined limitations. Whether you are beginning a new running regimen, trying to reach a new personal record, or preparing for the rigors of race day, the negative thoughts of self-doubt and fear of failure often start creeping into your mind. Affirmations will help to remind you that you have all it takes to trample that fear and uncertainty beneath your feet, to reach the goal you have set for yourself.
Download our free app for iPhone/iPad today and listen immediately after your purchase- just search the App Store for Trinity Affirmations.
Download this album and develop the mental endurance necessary to devote yourself to becoming the star runner that you've always wanted to be.
Present Tense
I am committed to running
I am a natural born runner
I enjoy running
I am motivated to run
I feel great when running
I always strive to go faster and further
I am a fast runner
I am agile
I always look forward to running
I am focused on running
Future Tense
I will run regularly
I will increase my stamina
I will be motivated to run
I am finding it easy to run further and faster
I will become extremely dedicated to running
I am beginning to realize my running potential
I will be known for my running ability
I am starting to look forward to running
I will stick to my running routine
My endurance is building
Natural Tense
Running comes naturally to me
Others know me as a runner
My endurance is naturally high
Running is easy
Running is part of my routine
My lifestyle is active
Motivation to run comes easily to me
Running is fun
My stamina is great
Running feels natural and easy