Improve in Soccer Affirmations
Build up your mental strength and discover your true soccer potential, with our powerful positive affirmations album.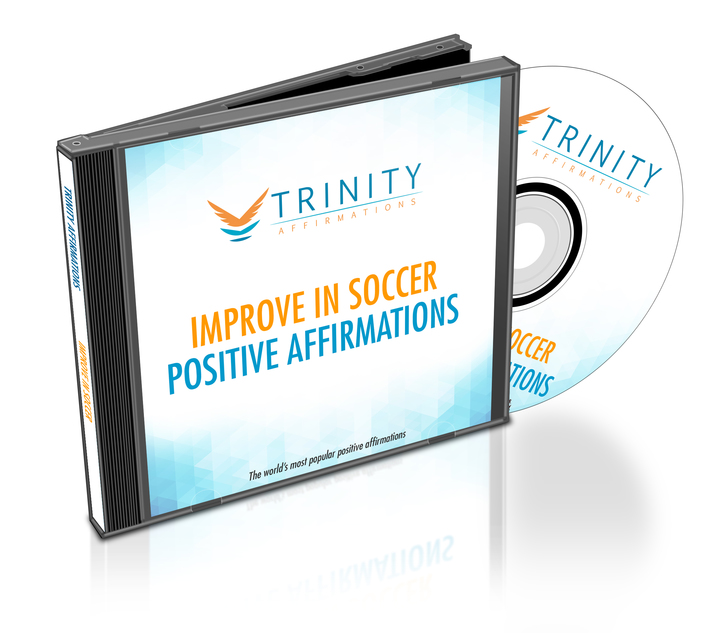 Do you perform better in practice that under pressure of a big match?
Do you often dwell on your mistakes and lose all self-confidence?
Are you finding it hard to focus on the game when it counts the most?
Do you wish you had the ability to maintain perfect concentration and remain relaxed and in control of your performance, even at the most critical moments of the match?
Any soccer coach would agree that mental toughness is one of the crucial factors that determine the success of a player. Soccer is a physically demanding sport and your body needs to be in excellent overall shape to meet its requirements. But if you truly wish to get ahead in this game, you should spend as much time training your mind, as you do your body.
Bouncing back from a bad pass or a missed goal or managing negative emotions and keeping your confidence intact, is something that comes from having the right mindset and not from practicing drills and developing technical skills. By learning how to handle stress and anxiety and to keep your mind clear of the clutter that clouds your focus, you will excel faster than your peers, who just rely on mastering physical aspects of the sport.
To be an elite soccer player you need to build up your mental strength to stay resilient to circumstances that can distract your attention, to develop a single-minded concentration on the present moment in the game to consistently perform at your peak, until the final whistle.
You can achieve this with a little help from our affirmations album!
It will help reset your mind to fully embrace positive and encouraging thoughts and strengthen your self-belief and confidence in your abilities. Practice them often and they will fire up your drive and determination, to push your performance past your perceived limitations to a level you never imagined possible.
What to Expect
When playing soccer your greatest secret weapon is your mindset and this affirmations album will help you get that extra edge over your opponents. Listen to it regularly and you will soon find:
You can maintain composure and manage stressful situations like a pro. Many soccer players who are excellent in practice, tend to underperform when exposed to the pressures of the match. Anxiety and stress can slow you down and affect your judgment, causing you to make bad decisions on the pitch. This mp3 album will give you the tools you need to build your resilience and even when the game is on the line, you will remain calm and in control of your emotions. You will be able to develop mental strategies to harness the pressure, so that you can ramp up the intensity of your performance and take your game to another level.
You have iron-clad focus and total control of your performance. With all the distractions fighting for their attention, players can find it extremely difficult to keep their mind clear and in tune with the flow of the game. In order to play soccer at peak levels, you need to avoid wasting your mental energy and learn to be in control of your concentration. Affirmations will calibrate your brain to quickly sort out unnecessary information and maintain a sharp focus on the task at hand. You will have total awareness of what is happening around you as the match unfolds and will be able to take full advantage of goal-scoring opportunities that present themselves.
You have supreme self-confidence and faith in your abilities . True soccer champions perceive setbacks and faults as challenges they need to overcome. They have the unshakeable self-belief and mental strength to take the knocks and keep on going, with the same intensity and drive, no matter what the score is or how much time is left on the clock. You can have the same self-confidence and a winning attitude with the help of this affirmations album. It will enable you to easily kick away self-doubts and negative thoughts that undermine your performance and allow your true natural soccer talents to shine.
Download our free app for iPhone/iPad today and listen immediately after your purchase- just search the App Store for Trinity Affirmations.
Download this mp3 today and have the confidence and winning mindset of a Premier League champion!
Present Tense
I am a fast runner
I am a great shooter
I make perfect passes
I have excellent ball control
I always train hard
I have perfect accuracy
I am a natural scorer
I am 100% dedicated to becoming a great soccer player
I am a highly skilled soccer player
My mind is perfectly wired for soccer
Future Tense
I will practice every day
I am becoming a fantastic dribbler
I will sharpen my reflexes
My confidence is building
I will stay focused on improving
I will do everything to win
I will be a leading scorer
I will train harder than anyone else
I will improve my accuracy
My coordination is steadily improving
Natural Tense
Soccer is in my blood
Scoring goals is easy
I have a burning desire to become a great soccer player
I can develop into a pro player if I put my mind to it
Soccer is my life
My teammates see me as a great player
I naturally notice plays developing
I enjoy training
My mind is totally focused on developing into a great player
Scoring comes naturally to me