Improve in Baseball Affirmations
Acquire the winning mindset that will make you stretch your limits and reach your full baseball potential, with the help of these powerful affirmations.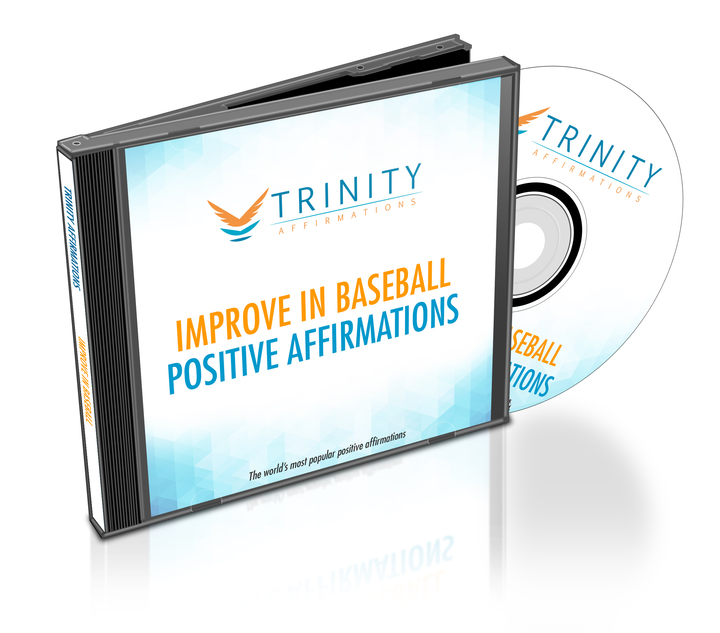 Are you easily distracted, finding it difficult to maintain your focus on the game?
Are you buckling under pressure at crucial moments of the match?
Are simple mistakes making you lose your composure and belief in your baseball skills?
Do you wish you could have the effortless self-assurance, perfect control and impenetrable concentration of the elite baseball players you admire?
When talking about skills required to become an elite baseball player what usually comes to mind is arm-strength, balance, running speed and excellent hand-to-eye coordination. Aspiring athletes dedicate incredible time and effort to throwing, batting and fielding drills, in order to improve the physical abilities necessary to compete at a higher level. However, what truly sets top professional players apart, is not just their physical prowess and technical skills, but their superlative mental strength.
The specific nature and slow pace of baseball require the ability to coordinate physical and mental competencies, including fast reaction times, alertness and steady nerves. That means that those players need to develop psychological skills to complement their physical abilities in order to succeed in the major leagues.
Top baseball players have the confidence to embrace the challenge of big game pressure and preserve their composure and calm throughout the match. They trained their mind to quickly bounce back from bad at-bats and strikeouts and maintain consistent performance and a motivated attitude, that gives them a competitive edge over their opponents.
Do you wish you could develop the same mental skills that enabled them to rise to the top of the game?
This is completely possible with the help of our simple, yet incredibly effective affirmations!
No matter what position you are playing, this album is designed to reprogram your mind to deflect negative thoughts that lead you to lose you self-belief and confidence in your abilities and empower you to stay in control of your performance. Affirmations will enable you to devise and hone strategies that will make you thrive under pressure and give you the boost you need, to break through your self-imposed limitations and reach your true baseball potential.
What to Expect
Positive affirmations will help you to align your mind and body to become the baseball player that you've previously only dreamed of. Practice them regularly and soon you will find:
You are maintaining an unwavering focus and perfect control of your performance. Keeping your mind fully focused on the action and in tune with the flow of the game can sometimes be very difficult. The ability to block out all unnecessary information and zero in on the task at hand is crucial for peak athletic performance on the diamond. Affirmations will train you how to clear your mind of all the clutter that obstructs your concentration and lock your focus on the present moment. That way you can become fully immersed in the game with the heightened level of awareness of all the activities around you, so that you can seize each opportunity to make your natural baseball talent shine.
You have supreme self-confidence and a firm belief in your abilities. All too often baseball players get discouraged after an errant throw or frustrated because of a losing streak and their confidence shatters. They allow negative thoughts to take a grip on their mind until they cannot find their way back into the game and resign themselves to losing. Our highly effective affirmations album will enable you to build up your resilience to prevent self–sabotaging emotions like doubt and fear undermine your game. They will help you develop a winning mindset so that you can smoothly bounce back from mistakes and bad breaks, with your confidence intact and play your best when it counts the most.
You embrace high-pressure situations and remain calm and poised to win. High levels of stress puts the body of an athlete under duress as it tightens the muscles and leads to a loss of coordination and speed. The effects of intense pressure on the mind are even more debilitating, causing a player to feel confused and overwhelmed, which results in unnecessary mistakes and bad decisions. Affirmations will completely change the way you handle pressure and enable you to stay calm and relaxed in the high-tension situations on the ball field. Practice them regularly and they will instill in you, the mental skills to harness the pressure and utilize the strong emotions it brings, to underpin your physical abilities and take your game to the next level.
Download our free app for iPhone/iPad today and listen immediately after your purchase- just search the App Store for Trinity Affirmations.
Ability to achieve your goals lies in your hands! Download this album and bring out the best in you to become a true baseball star!
Present Tense
I am a star ballplayer
I am a fast runner
I am a great hitter
I am dedicated to practicing
My body is built for baseball
I have excellent coordination
I am motivated to win
I am skilled at baseball
My mind is focused on winning
Others see me as a great baseball player
Future Tense
I will practice regularly
I will improve my batting average
I will increase my hitting distance
I am sharpening my focus
I will throw perfect pitches
I will stay motivated
I am improving my coordination
I will do everything I can to win
I will hit home runs
I will catch every ball that is hit to me
Natural Tense
I was born to play baseball
Others see me as a naturally gifted ballplayer
My throws are always on target
My teammates expect me to hit home runs
My batting average is stellar
Practicing baseball is fun
Winning comes easily to me
My coordination is excellent
My motivation to practice is high
My drive to play well comes naturally