Cycling Training Affirmations
Develop the mental power to intensify your training and take your cycling skills to the next level with the help of this affirmations mp3.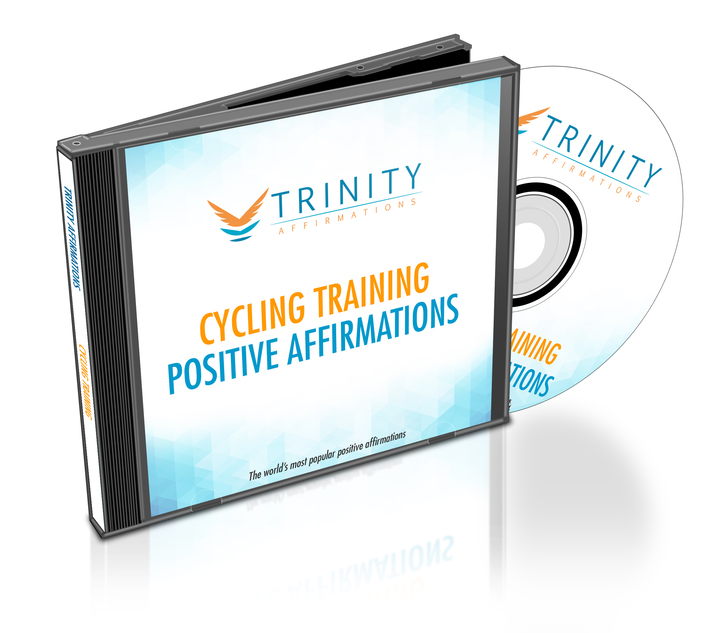 Do you struggle to keep yourself in top physical condition?
Is it getting harder to find the motivation to train consistently?
Are you losing self-confidence watching other riders leave you behind?
Do you wish you could always have the willpower to invest the time and effort it takes to develop your endurance and strength and discover your true cycling potential?
There are a growing number of people of all generations taking up cycling seriously, as a sport and as a means of keeping fit. This trend is turning into a veritable "pedal power" movement and with the long list of benefits, including increased muscle strength, joint mobility and improved cardiovascular health, it is not difficult to see why.
Cycling is a unique sport that offers you the chance to experience a peaceful appreciation of nature, the rush of fast descent down a rocky trail, the satisfaction of achieving a personal goal and exhilaration of reaching the finish line first – and all of it in a single ride.
Of course, there is the other side to it as well.
There are times when you get too tired to navigate difficult conditions, aches and pains in your legs become impossible to ignore, your lungs gasp for air and you struggle to fight that nagging desire to give up.
Whether you want to improve your riding skills or get ready for that upcoming race, it is essential to be motivated to put in the time and effort it takes to upgrade your riding technique and build up your strength and endurance.
Maintaining your enthusiasm and drive largely depends on developing the right mindset, that will empower you to commit to the hard training routine necessary to maximize your abilities and physical fitness.
Our positive affirmations will enable you to stay highly motivated to train regularly and to fully invest yourself in taking your cycling performance to a new high. They will help you develop the correct mindset to stay confident in both your physical and mental strength and be able to fully focus on developing your skills and riding technique.
You will be empowered to push beyond your limits and reach every goal you set your mind on.
What to Expect
Incorporate positive affirmations into your training to gain that mental advantage you need to take your performances to another level. Repeat them over and over again and you will soon discover that:
You are strongly motivated to train regularly to reach your maximum cycling potential. When your legs still ache from a previous ride or you are tired from a long day at work, getting up from the couch and getting on your bike requires a whole lot of willpower. Our simple, but effective affirmations will help put your mind in the right place to get out of your slump and commit yourself to your cycling training plan. Listen to them regularly and they will revive your energy and competitive spirit and give you the push to challenge yourself, by ramping up the intensity of your training.
You have the self-confidence needed to consistently develop your speed and focus. One of the worst experiences as a cyclist is getting dropped and watching with growing anxiety as other riders whizz past you on either side. You feel embarrassed and start doubting yourself and your ability to finish the race. In those moments you are faced with a choice, either to surrender to those negative feelings and accept defeat or summon up your strength to fight your way back to the front of the race. Affirmations can empower you to stay positive and relaxed in stressful situations and focus your full attention on closing that gap. Leg strength and endurance may be crucial for cycling speed, but it's your mindset that will determine the outcome of the race.
You are ready to push your limits and achieve the goals that you dream of. It is important to keep yourself in peak physical shape, but when you are competing against others of equal fitness and skill, you need that extra edge over other riders. Developing the right mental attitude will give you the determination to ignore distractions like pain and fatigue and overcome negative thoughts that can undermine your confidence. With the help of this affirmations album, you can train your mind to think of winning as a given and not just a remote possibility.
Download our free app for iPhone/iPad today and listen immediately after your purchase- just search the App Store for Trinity Affirmations.
Take action now - download this album and get that extra push you need to attain superior cycling skills and achieve your maximum potential.
Present Tense
I am an amazing cyclist
I am always pushing myself in my training sessions
I am willing to do whatever it takes to win my race
I am always thinking about cycling
I love cycling training
I am a natural born cyclist
I find it easy to find the motivation needed to get on my bike and complete my training
I am committed to training for my race
I just naturally take action
I naturally think positive thoughts
Future Tense
I am becoming more motivated by the day
I will become a positive thinker
I am finding myself more focused on my training
I am turning into someone who is willing to do what they need to do to win
I am learning to love training
I will push through the pain barrier
I will stick to my training schedule
I am becoming fitter and fitter
I am transforming into an amazing cyclist
I am becoming more determined to push myself
Natural Tense
Training is something I love to do
Staying motivated at all times is easy for me
Being physically fit is something I pride myself on
I'm an amazing cyclist
I have a high level of motivation
Cycling is fun
I always make sure to push myself in my training sessions
People see me as someone who is focused on winning
I find it very easy to think positive
Training for a race comes easily to me