Improve in Lacrosse Affirmations
Use this empowering affirmations album and find the drive and motivation to be a top-notch lacrosse player you always wanted to become.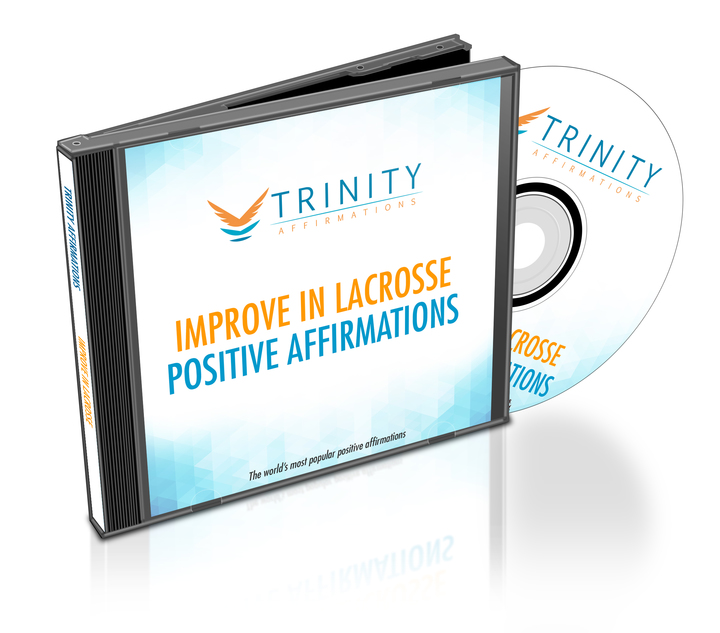 Do you find it difficult to focus on the game when it counts the most?
Are the frequent fumbles and mistakes making you lose your self-confidence?
Do you struggle to find the drive to train and keep yourself fit?
Do you wish you could learn how to handle the pressure so that you could maintain strong focus and take your game to the next level?
According to the latest trend surveys, participation in high-school lacrosse has exploded over the past decade, making it America's fastest growing sport. As a fast-paced, dynamic game lacrosse requires not only basic athletic fitness but agility and speed, as well as mastering techniques involved in passing, shooting and ball control.
In addition to that, the best lacrosse players perfected their skill of staying focused under immense pressure. They are capable of holding control over how their mind works and disregarding all distractions, preserve their concentration on keeping the ball and making that winning shot.
Do you have the tendency to exaggerate your mistakes and belittle your achievements, thinking that you will never be able to beat those successful players you try hard to emulate?
This pessimistic approach can cripple your self-confidence and have a destructive effect on your motivation and ability to achieve your set goals.
Don't let this negative mindset clip your wings and keep you from reaching your true potential! With the help of this affirmations album, you will be able to reframe your thought process to embrace a positive attitude that will restore your faith in yourself.
These simple, yet powerful affirmations will enable you to discover the drive necessary to hone your lacrosse skills and take them to a level you never imagined possible.
What to Expect
With the mindset of a winner, you will be able to define your goals and feel driven to follow the process that will get you there. This album will help you down this path by:
Empowering you to handle pressure like a pro. In a hard-hitting sport like lacrosse, the lack of ability to handle excessive pressure becomes an issue that can considerably impair your performance. This album will help you retrain your brain to develop and hone strategies that will enable you, not just to cope, but to thrive under pressure. Soon you will find you can stay calm, confident and ready to make the play in the most challenging situation.
Increasing your focus and control of your performance. Keeping your mind clear and in tune with the flow of the game can sometimes seem like an impossible task. You start feeling unsure of your capabilities and a little mistake can derail you from giving your best. Affirmations will calibrate your brain to minimize all distractions and keep an ironclad focus on the game. They will help boost your self-confidence and fire up your energy and drive, so when the whistle blows you will check fiercely, throw perfectly accurate passes and propel the ball at the goal, winning admiration from your teammates.
Motivating you to stick to your training routine and look forward to your next drill. The game of Lacrosse is fast, a high endurance test of strength and agility and you need to come prepared. Yet, it's not easy finding the self-discipline and energy it takes to get off the couch and practice stick work or master perfect catching and cradling skills. Listening to this mp3 album will put you in the right mood that makes training a fun and rewarding experience and not a dreaded chore you would rather avoid.
Download our free app for iPhone/iPad today and listen immediately after your purchase- just search the App Store for Trinity Affirmations.
You have the power to take your game to the next level! Download this album and discover your true lacrosse potential.
Present Tense
I am a focused lacrosse player
I am dedicated to training
I am a winner
I have excellent ball control
I am a fast runner
I am a strategic lacrosse player
I am conditioned to win
I have a clear mind
I am focused
I have self-confidence
Future Tense
I will win lacrosse games
I will improve my ball control
I will run at lightning speed
I will do everything possible to win
I will stay focused
I will motivate myself to train hard
I am developing massive self-confidence
I will practice often
I am starting to enjoy training
I will clear my mind and focus on the game
Natural Tense
Winning feels natural to me
Others naturally expect me to win at lacrosse
My mind is clear
My brain is focused
Training is enjoyable for me
Others admire my natural ball control
Running fast feels effortless
My self-confidence is high
My aim is perfect