Improve in Golf Affirmations
Maintain your focus on the golf course and handle pressure like a pro, with the help of these powerful affirmations.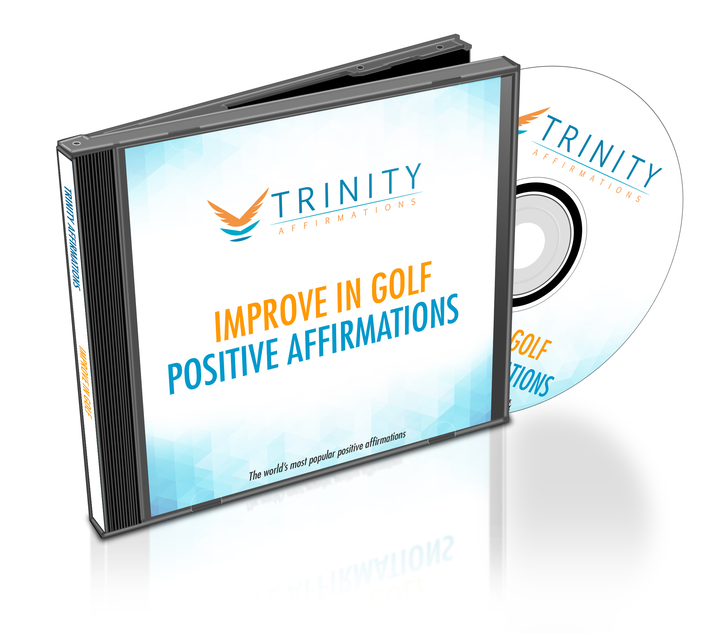 Is your lack of focus undermining your game?
Are you buckling under pressure and struggling to remain in control?
Is it getting harder to improve your score?
Do you wish you could have the mental strength of a golfing champion to give you that massive edge over your competition?
These days all top golf players employ a special sports psychologist to help them develop the right frame of mind and to teach them how to stay in the zone for the duration of their round. This should come as no surprise because in golf, what decides who wins or loses is not just who has the best swing or the most accurate aim, but who is mentally the strongest player.
Golf is an individual sport and when you find yourself struggling to cope with stress and anxiety there is no one else to turn to on the fairway but yourself. If you allow discouraging thoughts to undermine your confidence and your emotional swings to upset your golf swing, this will show on your scorecard.
It's important to keep pushing your physical limits, but to truly excel in this sport you have to increase your resilience and readiness to embrace challenges without succumbing to pressure.
Our positive affirmations will enable you to develop a winning mindset that will keep you calm, alert and in control when you step on the golf course and enable you to take your performance to a higher level. Whether you just want to impress your friends or be at the top of your game for the competition, these positive statements will empower you to become oblivious to all distractions and keep your attention fully fixed on your next shot.
Practice these simple mental strategies before and during the round and soon you will be breaking into new scoring levels and consistently improving your play.
What to Expect
If you take the time to train your brain with these positive affirmations, your scores will tumble and your golf game will be better than you ever imagined. Soon you will be able to:
Remain supremely self-confident and in control of the game. There are days when the ball just refuses to drop in the hole and somehow prefers to get lost in the bushes. Negative thoughts cloud your mood and you start losing your confidence and with it, your ability to access the full range of your golfing skills. This album is designed to enable you to reduce negative interference such as doubt and fear and increase your confidence and emotional balance. Listen to it and you will see that the next time you play a bad shot, you will be able to simply shift your thoughts to the next stroke and remind yourself that fortunes on the green can turn with just one perfect swing.
Maintain unwavering focus and stay in the moment The purpose of the game of golf seems simple. All you have to do is focus on getting the ball in the cup in the most efficient way possible. And yet, golfers tend to concentrate on the missed opportunities, or that difficult hole ahead, losing their focus on the present moment. Affirmations will help you train your mind so that your ability to focus becomes an instinctive, subconscious process and gives you the mental tools needed, to disregard all information that is irrelevant for the task ahead and focus only on making that shot.
Look at pressure situations as a time for you to shine. How you handle pressure can make or break your success on the golf course. You can either let your nerves get the best of you, or learn how to channel the fears and stress to bring out your best. This album will hand you the tools to harness the pressure and turn it into the positive force that can propel your game to another level. Listen to it regularly and push aside all obstacles standing in your way to win that golf tournament trophy you desire.
Download our free app for iPhone/iPad today and listen immediately after your purchase- just search the App Store for Trinity Affirmations.
Download this album and develop the winning mindset you need to start realizing your full potential as a golfer.
Present Tense
I am a focused player
I have a steady swing
I am very alert
I remain focused for long periods of time
I concentrate easily
I am a great golfer
I thrive under pressure
I am in the zone
I am a confident player
I have an accurate swing
Future Tense
I am improving my game
I am growing more confident
I will be a successful golfer
I will win consistently
I will perfect my swing
I will stay focused under pressure
My swing is becoming more steady
I will be aware of my posture
I will continually improve my golf game
I am developing a perfect stance
Natural Tense
Playing golf comes naturally to me
Golf is my life
Practicing golf is something I truly enjoy
My swing is steady
Focusing comes easily
Others recognize how well I play
Concentrating feels natural
My posture is perfect
Golf is fun
Winning is easy