Improve in Snooker Affirmations
Use these affirmations to get the winning mindset and develop mental skills you need to become a top-notch snooker player.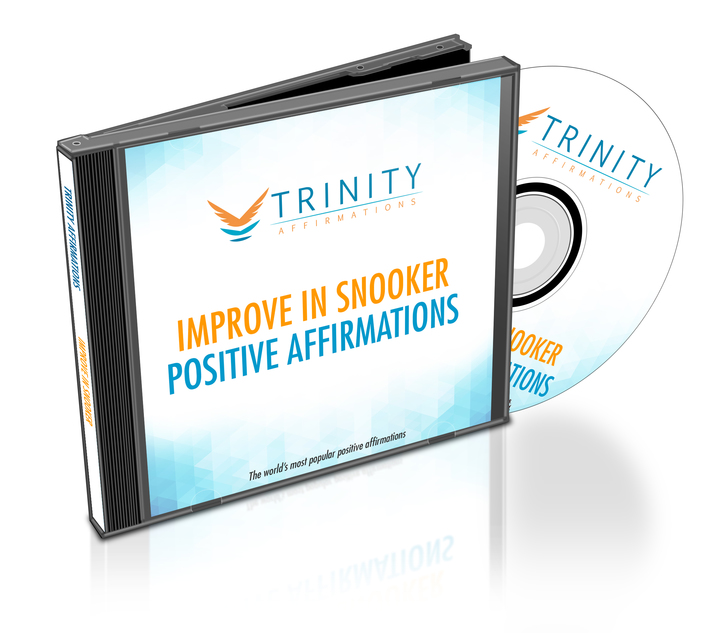 Do you find it impossible to improve your game, no matter how hard you practice?
Is pressure sometimes getting the best of you, making you too anxious to show your true skills?
Are you easily distracted and find it hard to focus on your game?
Do you wish you could master the cool composure and supreme self-confidence of the professional snooker players and take your game to another level?
As any player would tell you, snooker is first and foremost a mind game. Besides having a perfect technique, a snooker player should be able to think five shots ahead, develop a winning strategy and execute it smoothly. Without making a mistake.
And that requires supreme self-confidence, a calm demeanor and the ability to handle pressure when the going gets tough.
Sometimes a simple miss puts you back in your chair and all you can do is watch as your relentless opponent scoops up your points. Negative thoughts full of self-doubt start flooding your mind and you get easily distracted and frustrated. You find yourself discouraged, completely losing your focus on the game, missing shots you would never do in practice.
Top snooker players always appear to be steady and calm, guarding their emotions behind the impassive facade, perfectly in control of their game, as if nothing can faze them.
Do you wish you had their ability to ignore distractions, to maintain a deep level of concentration and be fully in the moment?
This is completely possible through these positive affirmations that will help you develop a winning mindset and stay confident, focused and in control, even under extreme pressure. These powerful messages will help train your mind to remain mentally poised to win, so that you can focus on playing to the best of your ability.
What to Expect
Listen regularly to this mp3 album and it will help you to eliminate all mental obstacles to unleash your true snooker potential. Soon you will be able to:
Build exceptional confidence and self-control. In a high tension game like snooker, there are times when your nervousness and temperament can get the best of you. Your attention goes inwards, that miss you made starts preying on your mind and you begin to doubt your abilities. Soon your confidence is shattered and you are no longer able to get back in the game. With the help of these powerful messages, you will prevent the debilitating effects of self-criticism and fear of losing. Instead, you will become self-confident and mentally strong and find it easy to keep your emotions and anxiety in check, so that you can concentrate on playing to the best of your ability.
Handle pressure and seize control of your game. From amateur to advanced professional, the ability to handle pressure is a major part of winning critical matches. It is vital to train your mind how to steady your nerves and refocus your attention when the stress threatens to overwhelm you. Affirmations will enable you to develop a mental strategy you can turn to when things don't seem to be going well, in order to concentrate on what matters - visualizing the shot, planning the route of the ball and making sure it goes in that pocket. Ability to handle pressure well will reaffirm your self-belief and give you that extra edge over your competition.
Keep unshakeable focus and concentrate on playing your best. Snooker requires a clear, cool head so that you can plan your moves in a confident way. At times it is not easy to block out distractions and not get unsettled by the surroundings or how your opponent is playing the game. Lapses in concentration can turn the scales against you and shake up your confidence. Practicing affirmations will help you keep your focus and direct it to where it matters the most, so that you can unleash your natural skills and talents to become top snooker player.
Download our free app for iPhone/iPad today and listen immediately after your purchase- just search the App Store for Trinity Affirmations.
Download this mp3 album and gain the perfect mindset needed to become a true snooker champion and discover your true potential.
Present Tense
I am a focused snooker player
I enjoy practicing snooker
I always win at snooker
Others see me as a great snooker player
I am a skilled snooker player
I have perfect aim
I am a natural at snooker
I always practice seriously
I have a solid concentration
I have perfect control over my mind when playing snooker
Future Tense
I will stay focused
My aim is getting better and better
I will concentrate fully
I am improving my snooker skills every day
I will win at snooker
I will dedicate myself to training
I will unlock my natural snooker talent
I am perfecting my snooker technique
My confidence is steadily increasing
I will stay calm when playing snooker
Natural Tense
Playing snooker comes naturally to me
Winning at snooker is easy
My aim is perfect
My technique is flawless
Practicing snooker is fun
Self-confidence comes naturally
Playing snooker is my life
My focus is unshakeable
Snooker is easy for me
My mind is finely-tuned for playing snooker