Improve in Darts Affirmations
Get the mindset you need to maintain laser-like focus, improve accuracy and aim and always get down to zero first.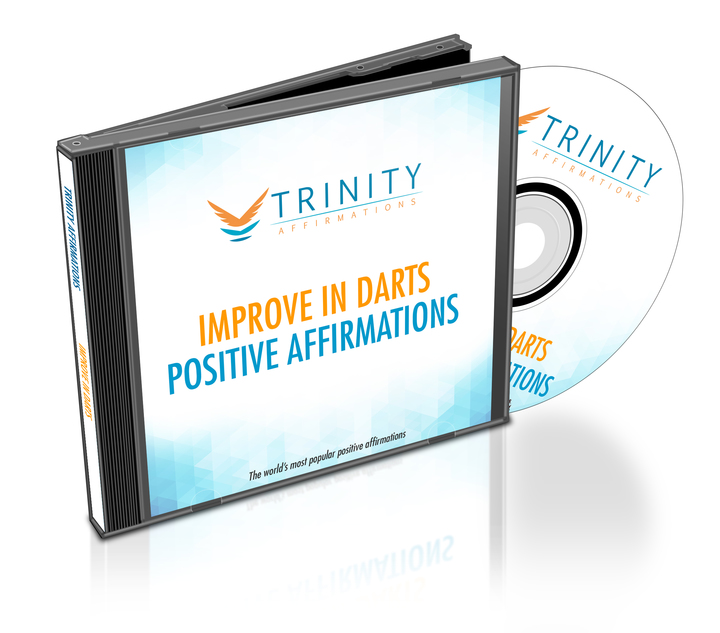 Are you finding it hard to get yourself around to practicing darts?
Do you struggle to handle the pressure and keep your concentration?
Are you beginning to lose your confidence to play darts in public?
Do you wish you could have a perfect aim and the steady hand of those professional dart players you admire?
Though some might consider darts not to be a "mainstream" sport like football or tennis, its popularity keeps increasing over the years, followed by a growing professional scene. The sport is gaining more and more momentum worldwide and in Britain, it's one of the most watched TV sports.
One of the reasons is that anyone can play - there truly are no physical requirements to compete. A game where you have to maintain a solid stance, steady hand and a perfect concentration depends more on mental power than physical strength and fitness.
Whether your interest in darts revolves around an occasional challenge amongst friends, membership in a local league or participating in contests and tournaments, you know that perfecting your technique can only get you so far. To be a successful player you need supreme self-confidence and a firm grip, not only on the dart but of your emotions too.
Our affirmations album will help you get rid of those negative thoughts that undermine you and make your hand shake when it counts the most. They will train your brain how to perfect the mental aspect of the game and stay confident and in control in stressful situations, so that you can focus on playing to the best of your ability.
What to Expect
Develop your positive mental approach to matches and stay focused and calm when the going gets tough. Our simple, but powerful affirmations will ensure that:
You always find time to practice and perfect your skills. Some darters prefer practicing solo and others like match plays with their friends. Whatever your choice is to improve your skills, you must dedicate yourself to a regular practice routine. This album will give you that extra push to stop procrastinating and start consistently working on your technique and aim and soon you'll be sure to take your throwing action to another level.
You will keep your cool and composure under pressure. High tension is the main reason that makes the game of darts so compelling and addictive. But remaining calm and unruffled when you have to hit that game winning shot, takes a lot of mental power and self-discipline. Practicing these positive affirmations will reinforce your confidence and strengthen your resolve and soon you will be able to harness pressure and use it to your advantage.
You will be able to maintain a high level of concentration and a strong focus on the game. Whether you are playing at a bar or at a top professional tournament, when you step on the oche it gets difficult to block out all the activity and noise around you and keep that steely concentration you need for a perfect shot. Affirmations are designed to clear your mind of all the clutter and give you a set of tools you need to maintain an unwavering focus on the board and make each dart count.
Download our free app for iPhone/iPad today and listen immediately after your purchase- just search the App Store for Trinity Affirmations.
Download this album to achieve that stellar mind control you need to become a top-notch player.
Present Tense
I have great concentration
I thrive under pressure
I am a great darts player
I have superb aim
I have accurate aim
I am a focused player
I am motivated to practice
I love to play darts
I practice regularly
I am a confident darts player
Future Tense
I will practice regularly
I am increasing my confidence
I will become a winning darts player
I will stay focused
I will perfect my aim
I will keep a steady hand
Others will see me as a great darts player
I am increasing my motivation
I will concentrate on my target
I will focus on my form
Natural Tense
My aim is perfect
My hand is steady
My form is good
Focus comes naturally to me
Darts is my life
Others view me as a winner
My concentration is long lasting
My confidence is high
Playing darts comes naturally to me
Practicing is fun