Improve in Tennis Affirmations
Looking for that extra edge over your tennis opponents? Stay calm, confident and ready to make the play in the most challenging situation, with the help of this affirmations album.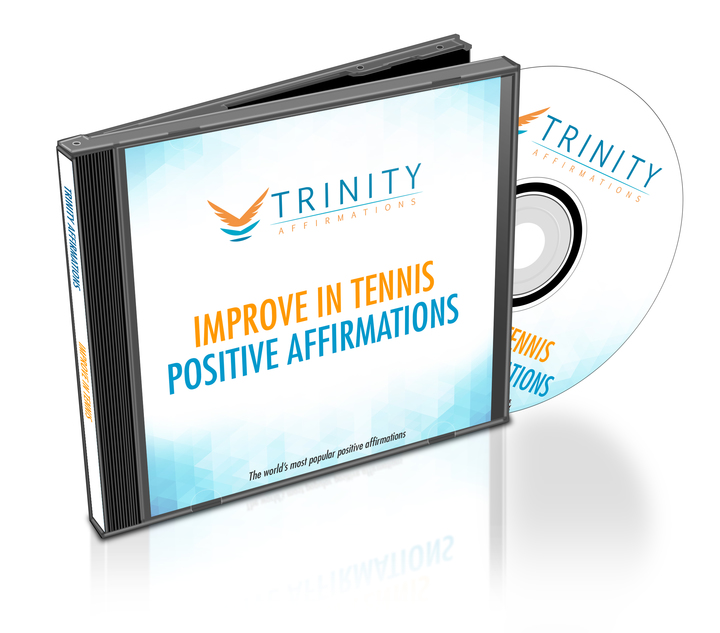 Is it hard letting go of mistakes and failures to concentrate on the match?
Do you find yourself buckling under pressure at the crucial moments of the game?
Are you unable to perform up to your maximum ability in tournaments?
Do you wish you could handle pressure, always remain in control of your game and play with the absolute confidence and ease of a true tennis champion?
You are in excellent physical shape and you train very hard to perfect your strokes and develop speed and endurance. And yet, when you step on the tennis court you get nervous and distracted, you struggle to keep calm and stay focused on the next shot. When you begin to realize your head breaks down before your body does, it's time to start working on the mental side of the game!
All professional tennis players would agree that mental strength plays a crucial part in their success. Sometimes the major battle in a tennis match is not the one played against the opponent, but the one taking place in a player's own mind.
In a game of starts and stops like tennis, mental toughness between points is crucial for strong performance on the court.
Top players use that time to process the last point and mentally prepare for the next so that they can enter the zone where the mind and the body are perfectly in tune and focus all their attention on making a shot. This requires not only immense concentration, but also supreme willpower and self-control.
Do you wish you could master these skills and learn to remain confident, focused and in control of your emotions so that you can get the most out of your physical ability?
Our affirmations album can help you achieve this! If you integrate these simple, yet powerful statements into your daily training routine, you will develop the confident mindset that will heighten your natural abilities and enable you to consistently tap into your full potential.
What to Expect
Affirmations will enable you to stay calm under intense pressure and quickly rebound from mistakes, to close out the match in style. Listen to this mp3 album and it will inspire you to:
Stay mentally focused throughout the match. Lousy weather, conditions on the court and noisy crowds are just some of the things competing for a player's attention. Ability to process all these factors and lock your attention only on the next shot requires a strong mindset. Instead of letting your mental energy scatter on things you cannot control, program your brain to ignore distractions and focus only on anticipating your opponent's next move and choosing the best technique to respond to it. Affirmations will help you improve your concentration and self-discipline and learn how to stay in the moment so that you can focus only on things that bring results.
Bring your best and most confident game to the court. Faith in your own abilities is vital to success in tennis. All too often players get discouraged after a lost lead or frustrated because of a double fault and they lose all confidence in themselves and cannot find their way back into the game. Our highly effective affirmations album will enable you to prevent self–sabotaging emotions like doubt and fear from undermining your game. They will help you develop a winning mindset so that you can bounce back from missed shots and lost tie-breaks with your confidence intact and play your best when it counts the most.
Use the pressure of the game to your advantage. When you are serving for the set it is impossible not to feel the pressure and stress. The trick is to learn to harness the pressure and utilize the strong emotions it brings to underpin your physical skills. The player in possession of mental strength to embrace the challenge and remain calm and centered in critical points of the match holds a considerable advantage over his opponent. This album will give you all the tools you need to maintain full control of your game in stressful situations and motivate you to reach beyond your imagined limitations.
Download our free app for iPhone/iPad today and listen immediately after your purchase- just search the App Store for Trinity Affirmations.
Your mind can be your best or worst asset on the court. Download this mp3 album today and acquire the winning mindset of a champion.
Present Tense
I am an excellent tennis player
I always play tennis with intensity
I am a fast sprinter
I have an accurate swing
My serve is powerful
I am focused on playing well
I am dedicated to practicing
I have a winning mindset
I always play to win
Others see me as a gifted tennis player
Future Tense
I am developing into a top level player
I will practice intensely
I will return serves with ease
I will focus on winning
I am improving my level of concentration
Winning tennis games is becoming easier and easier
I will stay focused
I will develop a powerful backswing
I am starting to enjoy practicing
I will improve my serve
Natural Tense
Tennis comes naturally to me
Practicing tennis is fun
I have a powerful and accurate serve
My mind is clear and focused on tennis
I was born to play tennis
My concentration level is high
My shot accuracy is superb
Others think of me as a natural born tennis player
Winning comes easily to me
My reflexes are naturally fast and sharp