Improve in Swimming Affirmations
Use this powerful affirmations mp3 to help you perfect your strokes, build your endurance and gain the mindset of a top-level swimmer!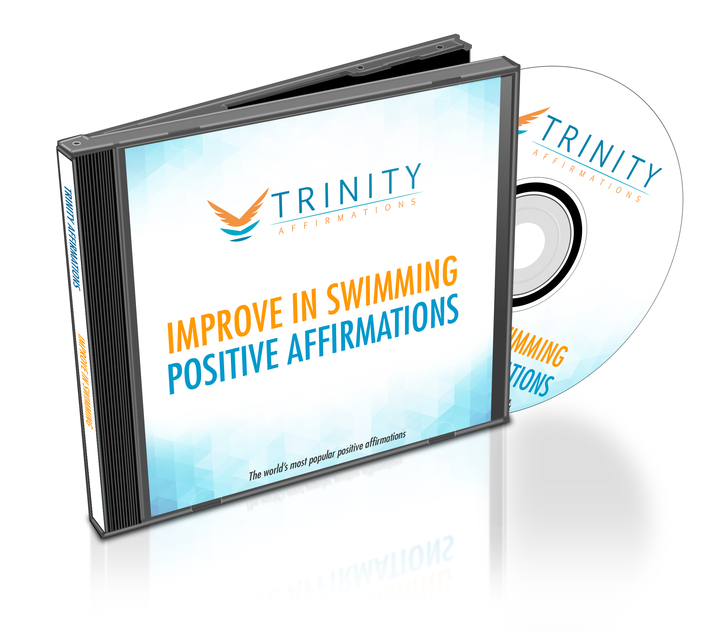 Do you find yourself buckling under pressure at big swim meets?
Do you think you should be achieving better results for all the hard work you put in?
Are you easily distracted, finding it difficult to maintain full control of your swimming strokes and speed?
Do you wish you could learn how to handle stress and develop strong focus so that you can truly unleash your full swimming potential?
Swimmers often get frustrated because, despite achieving excellent times in training, they end up performing badly in the meets and losing to competitors who simply are not as good as they are. This is due to the fact that they focus too much on the physical aspect of the training, neglecting to develop that all important mental strength, crucial to becoming a champion swimmer.
As you wait for the starter to begin the race, it is not the importance of the event, strong competition, lane assignment or pool conditions that make you nervous. It is your inability to ignore all these factors and focus on what matters the most – keeping your stroke long and smooth, maintaining a proper breathing pattern and achieving a consistent rhythm.
Anxiety, fear and lack of self-confidence are like mental drag weighing you down and pushing against you. You need to train your mind how to discard this unwanted ballast so you can easily and effortlessly glide through the water with ever increasing speed.
This positive affirmations album is designed to help you swim much more efficiently and successfully, bringing your competitive swimming times down.
Whether you are a seasoned pro looking to beat your own best record or a beginner preparing for his first meet, you will get enormous benefit from reprogramming your mind to use the pressure of competition to bolster your performance and enhance your focus on the race. It will help you gain self-confidence and give you the courage and willpower to embrace challenges and chase the outer reaches of your limits.
Begin reciting them today to blow your swimming expectations out of the water!
What to Expect
These simple, yet powerful affirmations will help clear your mind and heighten your focus and coordination so that you become the strong, consistent swimmer you always wanted to be. Practice them and you will soon find:
You have self-confidence and determination to win. You worked hard to develop a powerful stroke and a perfect technique and yet your speed is not improving. Soon you begin to feel disheartened, start doubting your skills and losing motivation. In competition, negative thoughts can end up sabotaging all the hard work you have invested in your training. This mp3 album is there to empower you to keep those self-defeating thoughts at bay and help you develop a profound inner belief in your abilities, so that you can be at a peak frame of mind for the meet. As a result, you will be able to overcome the self-imposed limitations that slowed you down and reach your natural swimming potential.
Your attention and focus on the moment have increased. Swimmers who get too nervous before the race tend to concentrate on the wrong things. They are unable to let go of past bad swims or worried about getting in the future finals and they end up losing their focus on the present moment. Practicing affirmations will train you how to clear your mind and redirect your full attention on what matters the most - your swimming, one lap at a time. That way you can become fully immersed in the moment and make your hard-won swimming skills truly shine.
You possess mental strength to consistently swim fast under pressure. When you get nervous under pressure your breathing gets faster and shallower and your muscles tighten, becoming less efficient. The more relaxed you are, the faster you'll go. Listen to this album regularly and it will empower you to embrace the pressure of a swimming competition and turn it into the force that propels you through the water instead of slowing you down. Remaining calm and in control in most intense situations is a huge advantage to have, especially in a sport where a hundredth of a second decides the winner.
Download our free app for iPhone/iPad today and listen immediately after your purchase- just search the App Store for Trinity Affirmations.
Dreaming of becoming a champion swimmer? Download this album and it will instill in you the motivation and drive to stretch beyond your limits and reach your full swimming potential.
Present Tense
I am a skilled swimmer
I have incredible endurance
I am physically strong
I have excellent rhythm
I breathe efficiently
I make swimming look effortless
I have a clear mind
I am focused on swimming
I enjoy training
I am very coordinated
Future Tense
I will become a championship swimmer
I will increase my stamina
I will stay focused
I am building my endurance
I will train regularly
My technique is improving
I am becoming stronger
Others are starting to notice what a great swimmer I am
I will always perform to my absolute best
I will dedicate myself to swimming
Natural Tense
Swimming comes naturally to me
Concentrating in the water feels natural
Swimming is easy
I enjoy training hard and pushing myself to the max
I am naturally focused when swimming
Training is fun
Swimming competitions are easy to win
Perfect swimming technique comes naturally to me
I have great stamina
I am naturally motivated to train hard